In 1086 the Domesday book records an extensive Royal Manor containing three water mills, a church, a priest and some fifteen Burgesses. It was one of only two boroughs in the East Riding the other being Beverley. The Manor may have suffered at the hands of King William's 'Harrying of the North' that occurred following the Northern revolt against the Norman occupiers and the subsequent backlash that occurred in many parts of Yorkshire. Before the Conquest the Manor had been held by Earl Morcar and was valued at £56 but by 1086 it had fallen in value to £8.

In the Mediaeval times the town prospered as a market town, for the trading of livestock , for the milling of grain and the wool trade which was a very important product of the nearby Yorkshire Wolds. In 1245 it received a grant for a four day fair and further grants were made in 1272 and 1299. A charter was granted in 1300 to Henry Percy to hold a weekly market on a Saturday, and this was still in being in 1673. By the seventeenth century, 7 fairs were being held annually in the town.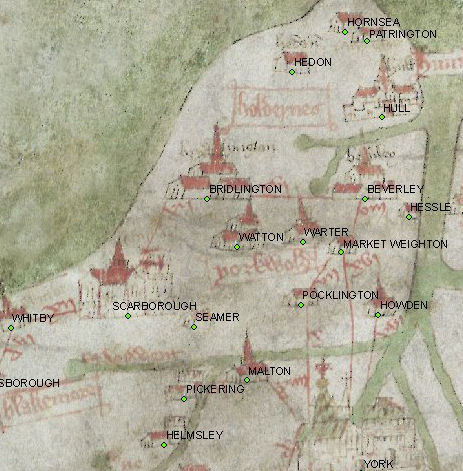 The Gough Map is the oldest known Medieval Map made in 1360.
It was curiously drawn sideways, and shows the important East Riding places.
The Parish church is the oldest building in the town and was built between 1200 and 1450. Canon Graham Christie in his notes on Pocklington church states that the North arcade of the nave, the north Transcept and the Lady Chapel in the Decorated Style and the chancel and clerestory, like the tower, is in the Perpendicular style. See the section on the church.
In the 11th Century being a Royal Manor and subsequently being owned by the powerful Earls of Albermarle followed by the Percy family and the Earls of Northumberland as overlords, Pocklington prospered in the Middle Ages.
At Ousethorpe, two miles to the north of Pocklington, lies a moated site and deserted medieaval village where a fulling Mill is recorded as early as 1241 and a fuller was recorded living in Pocklington in 1260. In 1086 3 water mills were recorded in Pocklington for the grinding of corn, fuelled by the presence of a swift running stream through the town. In 1399 is the first mention of weaving when, in that year, 7 weavers were charged with making dyed or rayed cloth, which was illegal apart from certain specified towns. Barley was an important wolds crop and this led to a later brewing industry in the town.