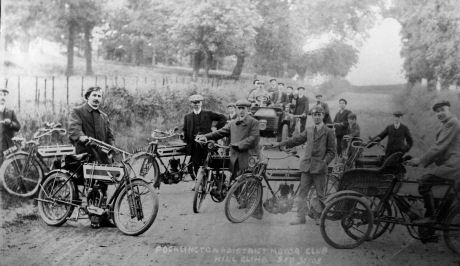 Pocklington Motor Club Hill Climb 30th September 1908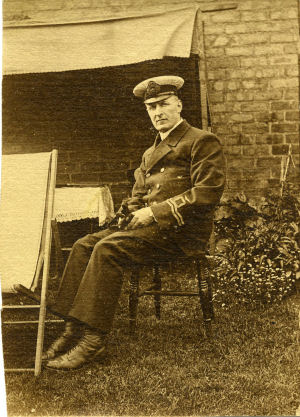 Wycliffe Everingham was a Flight Lieutenant. Motor Cycle and Wireless Pioneer and Engineer. Wycliffe, was born in Pocklington in 1880, was the oldest of three sons of John Everingham who ran one of Pocklington's biggest businesses of the late Victorian era. J T Everingham and Sons was a tailor's in RailwayStreet (where the kebab shop is now) that employed more than a dozen tailors and specialised in making corduroy britches for farm workers - they sold hundreds of pairs every November at the Martimas Hirings, when local farmers hired their labourers for the year. The Everingham's shop was ideally placed for this business as farm workers annually lined the pavement along Railway Street to be 'inspected' and taken on to work for the following 12 months on the farms in and around the town.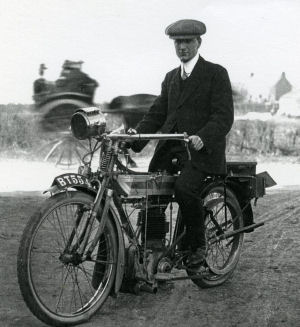 Though they grew up above the shop and factory, the Everingham boys all had an inclination and ability as engineers and an Wycliffe was an early motor bike enthusiast. This inspired his brothers into diversifying the family business into a motorised taxi service and selling bicycles and motor bikes before the war.
Wycliffe furthered his engineering and electrical interest by going to college in Leeds (to what is now Leeds Metropolitan University) and became an Associate of the Institution of Mechanical Engineers.
He left Pocklington in the early 1900s and set up in business in London as 'The Electro-Medical Co', medical equipment manufacturers, but the business failed circa 1910; he got married during his time in the south of England.
He returned to Pocklington to start a garage and electrical business in 1914 on the corner of George Street and Barmby road. The garage is still there today as a petrol station. This is a newspaper extract from the Howdenshire Chronicle and Pocklington Weekly News for December 5th 1914.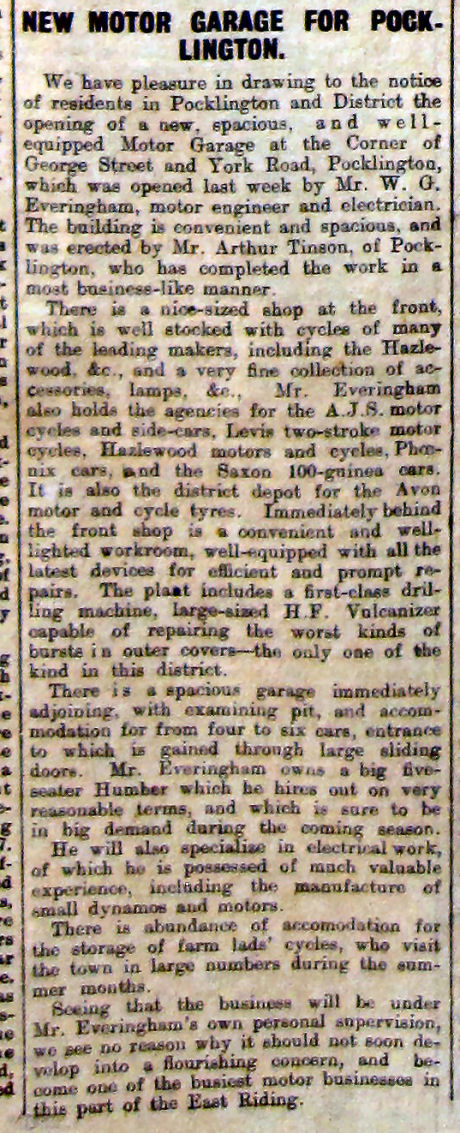 Such was Wycliffe's skill as an electrical engineer and magneto specialist that he reputedly was farmed out between the army and navy in 1914-18, switching to the Royal Naval Air Service (RNAS) in 1917, becoming a Flight Lieutenant. He was awarded the British War Medal before being demobbed from the RAF (the RNAS became the RAF in April 1918) in 1919 and returning to Pocklington.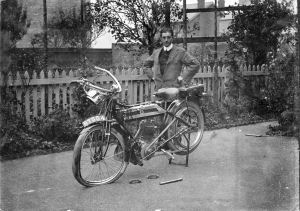 All three brothers had volunteered for WWI service, the youngest, Sidney, became a 2nd Lieutenant in the army, while middle brother, Irwin, failed his army medical and stayed at home running the business.
Sidney returned to Pocklingtom after serving in Ireland and joined forces with Irwin to start the area's first bus service in February 1919, supplementing their fleet with a couple of ex-army vehicles. But when Wycliffe resigned his RAF commission later in 1919 he did not team up with his two brothers, but started on his own as a motor mechanic in George Street.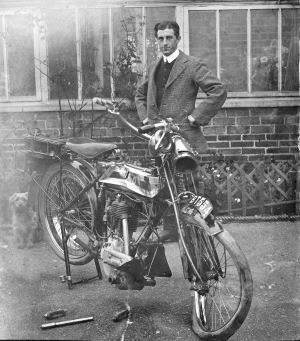 His garage was advertised as:

'Wycliffe G. Everingham, Engineer and Electrician, Motor and Cycle Agent - Oxy-Acetylene Welding of any Metal - Screw Cutting - Vulcanising - Motor Car For Hire - Tyre Stockist for Avon Tyres.'

The family lived at Arcacia Cottage on the Mile, with the home and business telephone number 'Pocklington 24'.
He was an agent for seven different makes of motor cycles and also sold early wirelesses. He took his son into the business, becoming WG Everingham & Son by 1929, but the garage was taken over by another Pocklington cycle and motor engineer, Rueben Fox, circa 1930 when Wycliffe moved to Lancashire.

The business survived for many years as one of the town's main motor garages, Fox & Figg. Remarkably, the family reported that Wycliffe reputation in the armed services was so high that 20 years later, at the outbreak of WWII, an army General was dispatched to track him down only to discover that he had passed away. Wycliffe died in LIverpool in 1937 aged 56.
The Tinson family were also motorcycle pioneers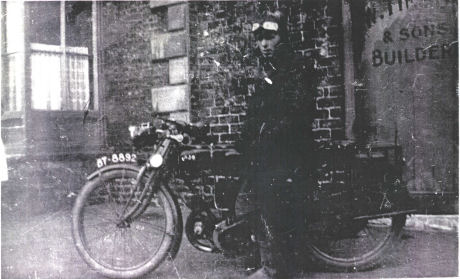 A member of the Tinson family on a motor cycle outside of their builders business doors in Brass Castle, Market Street, Pocklington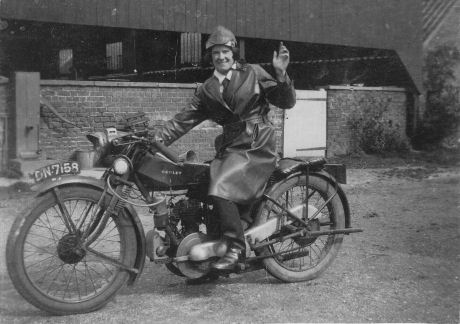 Doris Barnes (nee Tinson) on her brothers HENLEY. Photo from Doris's, grandaughter Carla Van Beveran. She said Doris used to jump on the bike and go for a ride out without permission from her brother!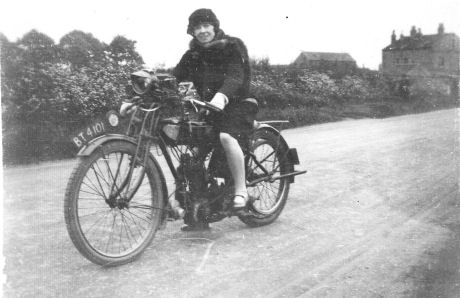 Ida Tinson on an Imperial motorcycle (picture and information from Carla Van Beveran). Sister of Doris and future wife of Sep Fowler. Notice Sherbut House in the background.