VISITATION OF YORKSHIRE IN 1584/5 AND 1612. (Foster)

In the Church of Pocklington, in Com. Ebor.

Drate pro anima magistri Johannis Prophete, Decan EccIesiae, &c., qui, &c.

"These twoo were upon buriall escocheons."
7. A lozenge, quarterly, 1 and 4, argent on a bend between 2 unicorns' heads azure, 3 lozenges or ; 2 and 3, or a cross patoncée gules. " Smethley."
8. Argent, on a fesse vert, between 3 cross crosslets sable, as many talbots passant argent, impaling the quarters of the lozenge, as in the preceding.
9. Gules, a chevron ermine between ) Impaling- ( ('' broken ") on a chief argent 3 3 martlets or, .................................)...............(torteaux.
10. Same impaling, argent, on a pale sable 3 lions' heads erased argent, crowned or.
11. Same impaling, sable, a chevron between 3 garbs argent ("broken ").
12. Same impaling, azure, on a fesse dancettée between 10 billets or 3 billets sable.
13. Same impaling, gules, a bend ermine.
14. Same impaling, azure, a bend argent cottised or between 6 martlets of the last.
15. Same impaling, argent, a tower triple turreted sable.
16. Gules, a chevron ermine between 3 martlets or.
17. Or, a cross sable.
i3. Vert, 3 escallops argent.
19. Argent, 3 bears' heads erased sable, muzzled gules.
20. 3 coats in one shield ; centre, gules 3 levriers courant in pale argent. Dexter side, gules, 2 bars gemelles and a chief or, "Stodowe;" sinister side, sable, on a saltier argent (or) a trefoil.
21. Quarterly, 1 and 4, 2 bars gemelles and a chief; 2 and 3, on a saltier a trefoil

Drate pro animate Roberti Stodowe, Armigeri, Margaretae, uroris ejus, ac Albani, fillii eorundem, quorum animabus propictetur Deus.

22. Quarterly, 1 and 4, gules, 2 bars gemelles, on a chief (or) of the last a mullet ; 2 and3, argent, a lion rampant sable. "This escocheon was paynted upon the Wall, and an escocheon of Hungate by it."
23. Gules, a chevron engrailed between 3 hounds sejant argent. "Hungate."
POCKLINGTON (All Saints). (Y.A.J. v.XXVI)

A canopied recess, from which the tomb has disappeared, has a shield at the end of the hood-mould and another on the wall above, bearing in each case [argent] three bears' heads erased [sable muzzled gules] for Barwick or Berwick. James Rudston, of Hayton, in the fifteenth century, married the daughter and heir of Thomas Barwick, of Pocklington. Another branch of the family was settled at Sutton-on-the-Forest and recorded their pedigree at the Visitation of 1584.
The restored Dolman monument in the Lady Chapel has a shield: Quarterly—1, azure a fess dancetty between eight garbs or (Dolman);
2, argent a chevron vert, an annulet or for difference ( );
3, or a chevron engrailed between three trefoils slipped sable ( );
4, St. Quintin.
The heraldry on the Sotheby monument in the north transept has already been described. The following list of the shields will supply one or two omissions and correct some slight inaccuracies. At the top, the arms of Sotheby; on the dexter side, six shields:

Sotheby impaling Vavasour (two cinq/oils in chief)—Robert Sotheby of Pocklington.
Sotheby impaling Bird—Thomas, his eldest son.
Sotheby impaling blank—Robert, his second son.†
He married at Kilnwick, 10 Oct., 1562, Ann Beswick (? widow).
Sotheby impaling Newton—Marmaduke, his third son.
Sotheby impaling blank—.....his fourth son.†
Sotheby impaling Hungate—Roger, his fifth son.

On the sinister side, six shields:
Sotheby impaling Bishop—.....his sixth son.†
Daniel impaling Sotheby—Agnes, his eldest daughter.
Wood impaling Sotheby—Mary, second daughter. Oglethorp impaling Sotheby—Ann, third daughter.
Holme impaling Sotheby—Grace, fourth daughter.
Lee impaling Sotheby—Bridget, fifth daughter.

In the upper part of the border:
Sotheby impaling Payler—Robert Sotheby, grandson of the above Robert.

Leger stone in the Lady Chapel:
Mary, wife of Robert Prickett and daughter of Marmaduke, Lord Langdale (1678): [or] on a cross [azure] quarter pierced four muscles [of the field] impaling [sable] a chevron between three mullets [argent] (Langdale).

Glover (Vis. 1584)†† noted the following coats at Pocklington:
(1) Smethley quartering or a cross patentee gules.
(2) Sotheby impaling Smethley quartered as above.
(3) Or a cross sable (Vesci).
(4) Vert three escallops argent.
(5) Berwick.
(6) Mauleverer impaling Stodowe and Clervaux.
(7) Stodowe quartering Clervaux.
(8) Stodowe quartering argent a lion rampant sable.
(9) Hungate.
On a chalice presented to the church in 1673 are the arms of Belt, argent on a chevron gules between three torteaux, a cross patty fitchy between two mullets or.†††

† It is obvious that these shields record three sons unnamed in the pedigrees, since the inscription mentions eleven children.
†† Foster, Yorks. Vis., 435. There are also noted seven shields belonging to an unknown family—gules a chevron ermine between three martlets or (Y.A .S. Journal, xiv, 109n.

††† Yorks. Church Plate, i, 300.

KILDWICK PERCY (St. Helen).

Near the north door is a brass plate to the memory of Thomas Wood, of Kildwick Percy, who died 23 Oct., 1584, with his arms: [sable] on a bend [argent] three fleurs-de-lys [of the field] differenced by a mullet [gules] surmounted by another [argent].* The heiress of Barney Wood, the last heir male of this family, married Sir Edmund Anderson, bart., of Broughton, afterwards of Lea, co. Lincoln, and the arms of Anderson appear on monuments in both churches. On the communion plate may be seen—Quarterly: 1 and 4, argent a chevron between three crosses flory sable (Anderson); 2, sable five estoiles in saltire** or; 3, Wood,*** with the badge of Ulster.

* Y.A.S. Journal, xvi, 288, and xiv, 509.
** This quartering is generally described as Anderson ancient. It is possible that it was in use by their ancestors before they changed their name from Lisle to Anderson.
*** Yorks. Church Plate, i, 279.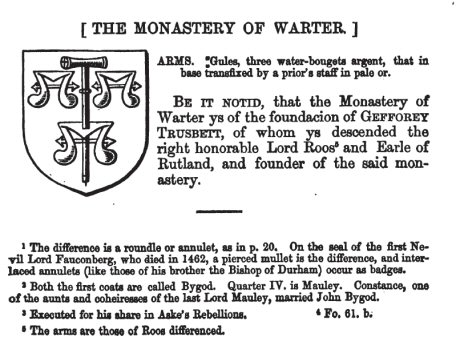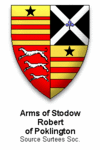 Robert Stodowe, of Pocklington
Quarterly 1 and 4, barry of eight gules and gold on a chief gold a mullet sable; 2, sable on a saltire silver a slipt [sic] trefoil azure ; 3, gules three greyhounds courrant argent.
The first and fourth quarters are as blazoned for "Stodowe" in Con. Pocklington is in East Riding of Yorkshire. See also FVY, p. 435; Yorks. Arch. Jour. XXVI, 142.