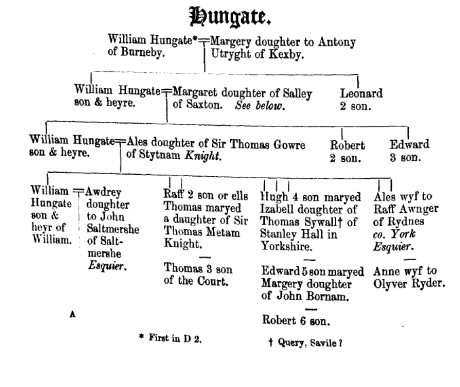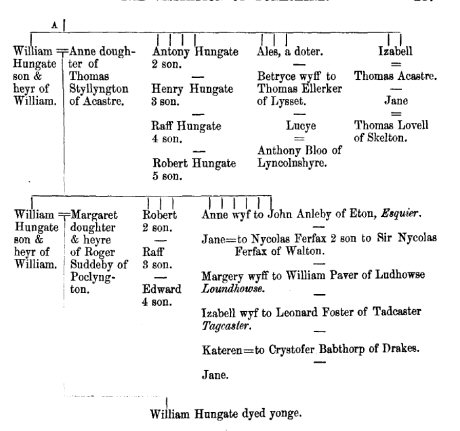 The Hungates were one of the most ancient families in Yorkshire, and were inter-married with the leading families of the county. They stoutly refused to conform to the new religion, in spite of persecution by fine and imprisonment. Sir Philip's father, William Hungate, Esq., was a very great sufferer for the faith, as, indeed, were all his children and their mother. Her maiden name was Margaret Sotheby, daughter and heiress of Roger Sotheby, of Pocklington, Esq., and because she would not abjure the faith she was imprisoned by the northern inquisi tion, under the lord president of the north, in Sheriff Hutton
Castle, with numbers of other Yorkshire ladies. Her children were equally staunch in their religion. The eldest son, Sir William Hungate, Knt, married Jane, daughter of George Middleton, of Leighton Hall, co. Lancaster, Esq., but died without surviving issue in 1634, his second son, Francis, having accompanied his uncle, the Rev. George Middleton, to the English college at Valladolid, in 1632, and died there in 1633 ; Roger Augustine, O.S.B., born in 1584, educated at the English secular college at Douay,and professed at Montserrat, served the Yorkshire mission till his death, Jan. 2, 1672,
having held the office of president-general of his order from 1 66 1 -9 ; Thomas, O.S.B., educated at Douay, was professed in Spain, and died on the English mission in 1657 ; Robert Gregory, O.S.B., also educated at the English college at Douay, afterwards was professed at the Benedictine college there, in
1610, and, passing to the English mission in Yorkshire, was appointed provincial of York in 1653, and died before the expiration of his office ; Sir Philip, referred to above ; Elizabeth, married first to Sir Marmaduke Grimston, Knt. and
secondly to Sir Henry Browne, Knt. ; Mary, married first to Richard Cholmeley, of Brandesby, Esq., and secondly to Sir William Howard, third son of Lord William Howard, of Naworth ; and Katharine, wife of Sir Gilbert Stapleton, of
Carlton. The second daughter, Mary, was married to Richard Cholmeley by an old priest named Francis Smith, in Jan. 1602, " in a close in Saxton parish, about ten of the clock in the night."

This was the subject of another inquisition, and brought down fresh troubles upon the heads of the devoted family.