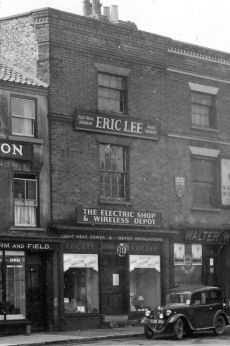 Eric Lee in Market Square on the opposite side to where it was later
A prominant Pocklington family business closed after being in business for 83 years. Eric Lee Electrical, on Market place, was founded in 1933 in the year that electricity came to the town. The front page of the Pocklington Post for 2nd June reported that "The owners Mark and Irene Tinson said the business is to cease trading because it is struggling to make a profit." Mark added further "We will be sad to see it all go it has been a big part of our lives for a long time as Irene started working here back in 1983 and one of our staff members has been with the company since 1969.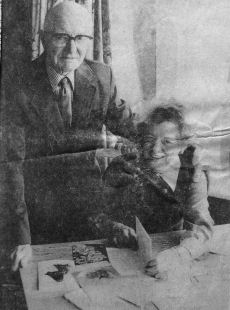 Eric Lee and Elsie celebrate their Golden Wedding in 1980
The business was started in 1933 on the opposite side of the Market Square following electrification of the town, by Eric and Elsie Lee. Elsie Moore from Everingham married Eric Lee in Hayton Church in 1930 and both worked in the business until they retired in 1968. Eric and Elsie lived in St Peter's Square, where the Sonali restaurant is now.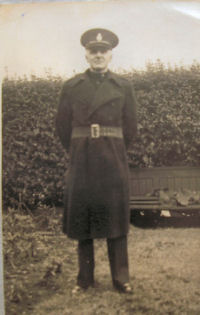 Eric Lee was a special constable in the War
In the early days the business grew rapidly and they employed many electricians who helped install electricity to many outlying villages and farms and also their electricians installed electricity into Warter Priory for the first time. They sold radio sets and televisions and also set up a repairs department. In the 1960's they expanded into the Rental and Hire Purchase of televisions and supplied many television sets in the area.
1942 Advertisment

1958 Advertisment

1964 Advertisment
Pocklington Times - 7th July 1967

Eric Lee in the 1960's

Front page of the Pocklington Post
2nd June 2016
They became a member of the Euronics electrical buying groups in order to try and compete with the large nationwide electrical outlets. The Euronics stores are all independant electrical retailers.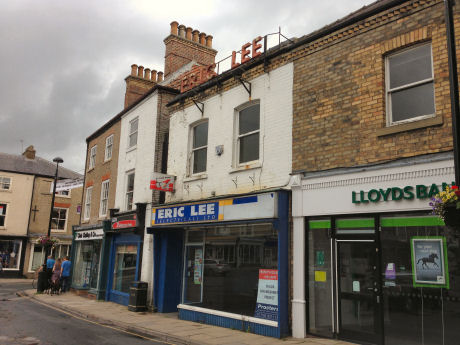 Eric Lee after closing in July 2016
However with the advent of the internet purchasing of electrical goods, it became increasingly difficult for a small electrical business to compete and it's doors closed on 16th June, 2016.
If you would like to impart your memories of Eric Lee, please send them to me and I will place them on this page.
An email was sent from Ken Hanley on 28th June 2017:
My dad Claude Hanley worked at Eric Lees electrical shop in Pocklington after the war. Part of his work involved delivering accumulators to the outlying farms. Pocklington had electricity but it was some time before all the isolated farms got connected. In order to listen in, their radios had be battery operated and with transistors yet to be invented, the radios consumed a lot of power. The accumulators were rechargeable lead-acid cells that powered the heaters of the valves (vacuum tubes). Eric Lees offered a weekly recharge and delivery service for these. I used to enjoy going out with my dad in the school holidays on his delivery round. Later after the farms got connected he worked in the shop eventually becoming shop manager where he worked until he died in 1971.
Ken's family website www.thehanleys.org.uk