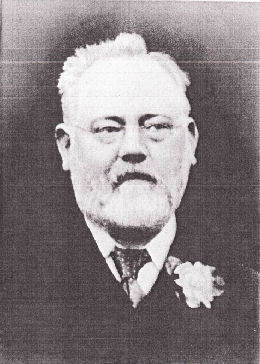 Thomas Robson was born at Full Sutton on the 17th September 1855 and was the seventh child born to George and Mary Robson, he served his articles to become a solicitor with Mr Robert Holtby whose practice was at 15 Low Ousegate, York.
Thomas married Eva Moore the daughter of Richard and Emma Moore a Yeoman from Carr Side, Hatfield, Nr Doncaster; they were married at Hatfield parish church then came to live in Pocklington at Pembroke Lodge, Chapmangate, his offices were on the street known as Waterloo Buildings in Pocklington.
Thomas Robson served Pocklington on many fronts holding many offices within the town, some of his duties are as follows, he was clerk to the Rural District Council, magistrates of both Pocklington and Market Weighton, to the governors of Pocklington School, he was steward to the Manors of Allerthorpe, Barmby Moor and Pocklington along with being instrumental in many fund raising activities such as Chairman of the Diamond Jubilee Committee responsible for the Victoria Memorial in Market Street.
Eva Robson was also well thought of in town performing many charitable acts whilst working tirelessly for the church, she was to have five sons to Thomas, they were Richard, Thomas, Frederick, Edward Moore and John Stanley, Edward Moore as so many were from that era had been given his mothers maiden name as a second Christian name.
Eva died in a London nursing home after a long illness on the 4th July 1915, her body was conveyed back to Pocklington from London and interred in the family plot in Pocklington cemetery, Rev A T Fisher presiding.
Richard Robson born 27th January 1884 and baptised on the 21st February, he attended Pocklington School. At 16 he matriculated at London University and served his articles at his fathers practice in Pocklington. Richard excelled at his education in law obtaining many honours and prizes he was also a church regular.
Richard moved to London and became a partner in the firm Bell, Broderick and Gray; Richard was 34 when he died of valvular disease from which he had suffered many years, his body was shipped back to Pocklington and interred in the family plot.
Thomas Robson the second son was born 15th May 1885 and baptised 1st February, he was educated at Pocklington School and Leeds University where he obtained a National Diploma in Agriculture, he farmed at Parks Farm, Duncsroft, Hatfield, Doncaster, he died on the 3rd May 1957 and is buried in the family plot in Pocklington.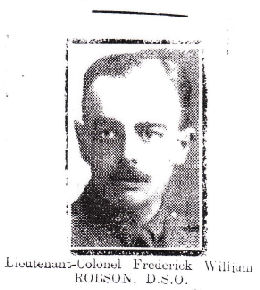 Frederick William Robson born 15th May 1887 and baptised on the 15th June 1889, he was educated at Pocklington School where he excelled in both scholastic and athletic pursuits, representing Yorkshire at Hockey. He matriculated at London University and served his articles with his father again as with Richard he gained many honours within the law fraternity and was a sidesman at Pocklington Church.
Frederick was a military man and in 1909 joined the 5th Battalion the Yorkshire Regiment (Territorials) as a Second Lieutenant; by the time of the Great War he was a Captain and as with his battalion had become a full time soldier.
In one particular battle at Martinpuich on the Somme he took command of his battalion when it's commanding officer was killed and went on to command full time. He was mentioned in despatches and won the D.S.O for conspicuous gallantry in action.
Frederick went on to become a Major then Lt Colonel when appointed to the 50th Divisional School of Instruction (Officer training). In March 1917 he was put in command of the 6th Battalion Durham Light Infantry, he was once again mentioned in despatches.
His death came in battle at Caix in France, being shot by machine gun fire on the 28th March 1918 his body was never recovered but his discs were returned by diplomatic means from Germany, and is remembered at The Pozieres War Memorial.
A fellow officer wrote "He was one of the finest type of Englishmen I ever met, and feel his death very keenly, as will the whole of his Battalion, who to a man trusted and loved him.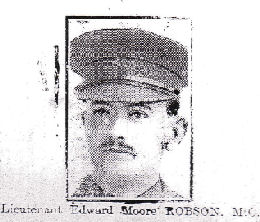 Edward Moore Robson born 2nd October 1889 and baptised on the 28th October 1890, he was educated at Pocklington School and matriculated at London University, and served his articles with his father, as with Richard and Frederick he excelled in law winning honours and prizes.
Shortly after the outbreak of war he joined the 5th Yorkshire Regiment, Edward was twice wounded the second being serious where he won the Military Cross he attained the rank of Captain.
Edward was reported as wounded and missing on the 17th of April 1918 and is remembered on The Ploegsteert Memorial Belgium.
Whilst a soldier Edward showed a talent as an artist and some of his drawings can be seen at the East Riding Archives in Beverley.
John Stanley Robson born 4th September 1893, he was educated at Pocklington School and the Royal Collage of Music, as with his brothers he excelled academically being elected an associate of the Royal College of Organists.
Early in the war he joined the 19th (Service Battalion) of the Royal Fusiliers and on joining the 5th Yorkshire Regiment was promoted to 2nd Lieutenant, he was wounded at Arras on 27th February 1917, in 1918 he was transferred to the 4th (Reserve) Battalion Yorkshire (based at Hull) on his request after the death of Richard, Frederick, Edward, to be near his father.
John Stanley married Miss Ethel Jennings of Storwood at Sutton on Derwent on 16th July 1918.
In August 1920 he left the Army at the rank of Captain, he and his family lived in London and then Grimsby before returning to Pocklington where he died on the 9th December 1981.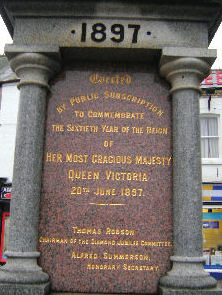 Thomas Robson Snr retired from life in Pocklington in 1919 going to live with Thomas Jnr in Hatfield; there were many presentations, which befitted a man of his stature in the area.
Thomas Snr died in 1924 his funeral taking place on Saturday the 24th of June; a report stated, "There are a few men about whom the people of Pocklington speak so unanimously well as Mr Thomas Robson. Most of us are loved by a few, but he appears to have won the good word of all. This is the more forceful because he held a great many public offices, and the undiscerning public is liable to be very hard on its servants. But he was so strict about the integrity of his dealings, and so kindly in his relationships to all people that the memory of him is entirely free from harsh criticisms.
In the work of restoring the Church he took the foremost part. It was largely through his enthusiasm that the 1902 and 1908 restorations were carried out in such a splendid style."