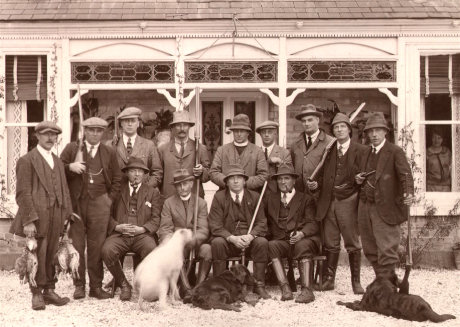 Kimberley House, Circa 1930's

Standing: Bob Jackson, (Foreman, Greenlands Fm.), Gilbert Richardson, David Swann, - Jordan, Rev. Booty, Dr.Tordoff, Arthur Richardson, Josiah Richardson, CharlesHaywood.
Sitting: Alfred Richardson, Arthur Gibson, Hubert Richardson, Sydney Richardson.
In window: Maude Laughton, (nee Taylor).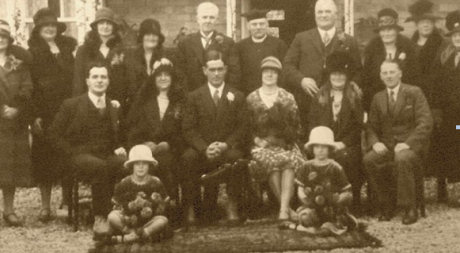 27 Nov. 1928 Kimberley House, Barmby Moor, Yorkshire.

Marriage of Len Laughton and Maude Taylor, daughter of Alfred and Blanche Taylor, ( nee Richardson). One of the unknown women in the photograph is Kate Richardson, no known relation to the other Richardsons' in the group.
Standing: Lizzie Potter, (nee Richardson), Daisy Ethel Richardson, unknown, Kathleen Mary Taylor, (nee Gillah), unknown, Rev. W.D.Wood - Rees, Sydney Richardson, Maude Richardson, Ethel Sweeting, (nee Martin), Jane Gibb, (nee Siddall).
Sitting: unknown, unknown, Leonard Laughton, Maude Laughton, (nee Taylor), Blanche Taylor, (nee Richardson), John (Jack) Collinson Taylor. Bridesmaids: Lorna Richardson, (later Cherry), Blanche Richardson, (later Eastwood).