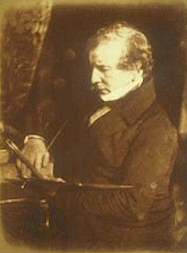 William Etty, one of the leading artists of the 19th century, was born and died in York, and his works form the centrepiece of York Art Gallery (his impressive statue also stands outside it). But he had strong Pocklington and Hayton origins – he came from a long-established local family, then was educated in the town, and went on to maintain his Pocklington links throughout his life.
The reason for Etty's parents setting in up home in York and leaving behind their Pocklington and Hayton roots is in itself an intriguing tale of 18th century social and class values.

William Etty's father, Matthew, was a miller who rented a mill on Hayton beck, while his mother, Esther Calverley, was the sister of the Squire of Hayton, Rudston Calverley. Matthew was aged 28 and Esther just 17 when they fell in love in Hayton and then quickly married at All Saints Church, Pocklington, in July 1771. But Esther's brother was highly disapproving of his young sister's marriage, and as lord of the manor he owned both the mill and the milling rights in Hayton, so Matthew was promptly ejected from the mill and the newly weds were 'run out of town'.

They moved to Pocklington and set up a bakery business, but it did not take off, which may have been due to the wider influence in Pocklington of Rudston Calverley. The couple moved briefly to Easington, then made a final switch to York, where their bakery was more successful and his father again took up flour milling, the Ettys becoming noted throughout the city for their gingerbread. Though they were never particularly well off they produced a large family of ten children, born between 1772 and 1793.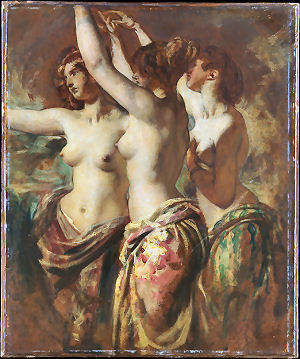 The Three Graces by William Etty
It is known to have hung in the Givendale home of John Singleton. Etty was a friend of the family who used to spend his summers painting in Givendale
William arrived in March 1787 and grew up in the family bakery in Feasegate, where his earliest drawings were in chalk on the floorboards of the shop. At the age of eight he was sent back to Pocklington as a boarder at Mr Hall's Academy, one of a dozen small private schools in the town. It was not surprising that his parents chose to educate him in Pocklington, as they family links with the town were still strong. Both his grandfathers originated from Pocklington, John Etty later moving to Holme-on-Spalding Moor to set up as a wheelwright, and William Calverley having a ropemaking business in both Hayton and Pocklington.



Obviously, the family roots were steeped in local tradesmen, and the rise of Esther Calverley's brother from his more humble beginnings to become a member of the gentry was a case of the luck of being in the right place at the right time. The Rudston family, lords of the manor of Hayton from the 12th century and created baronets by Charles I in 1642, died out in the 18th century, and when the last female member of the family looked around for someone to succeed to the manor of Hayton, Rudston Calverley, who claimed to be a distant cousin, fitted the bill. He duly inherited the family estate, expanding his name to become Rudston Calverly-Rudston, and quickly grew into his new role as a country squire, including educating his children at Eton.

Young William Etty had no such pretentions, and in contrast to his Calverley-Rudston cousins, his education was considerably more rudimentary. He boarded at Mr Hall's school during the week, and went home to York on some weekends, but on others stayed with his uncle, John Calverley, who was a Pocklington carpenter. Etty kept in touch with his uncle for some 30 years afterwards, and though he never married, he was said to have later fallen in love with his uncle's daughter during his trips back to the town.

At the age of just 11, Etty was then sent on to serve a seven year apprenticeship as a printer at the works of the 'Hull Packet' newspaper. He completed his apprenticeship, but immediately moved to London to realize his dream of studying to be a painter. He was supported in this by another uncle who had become a successful gold-lace merchant in the capital, and his uncle's backing allowed him to enrol as a pupil at the Royal Academy in 1806.

The rest of his life was spent studying art and painting, with his works gaining increasing acclaim and value as his style developed. He spent long periods working and learning in London and also undertook a two year educational tour of France and Italy from 1822-24, but he always came back to his Yorkshire roots.
Etty bought himself a house in Coney Street and was a strong supporter of local causes, including being the driving force behind setting up the York School of Art & Design, leading the campaign to repair the city walls and bars when they were threatened with demolition, and playing an active part in the restoration of York Minster after a disastrous fire in 1829.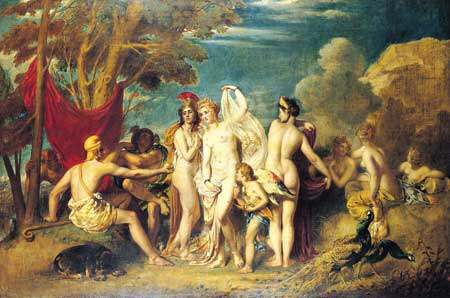 "The judgement of Paris" 1825-6 by William Etty
His links with Pocklington particularly flourished due to his close friendship with leading local citizen, John Singleton. Singleton's father, also John, is credited with being the world's first professional jockey who made a fortune out of riding, training and breeding racehorses and established an estate at Givendale and a town house, Theresa Cottage, in Pocklington. John Singleton, junior, continued to develop the Givendale estate and breed horses, and was the brother-in-law of George Hudson - the 'Railway King' who brought the railway to Pocklington in 1847. Etty would regularly escape the pressures of London and retreat to the peaceful rural seclusion of Givendale and Pocklington, spending the summer with the Singleton family, which inspired a very different aspect to his painting.
Etty is best known for his grand classical and mythological canvasses, and particularly for his paintings of nudes. But during his summers in Pocklington and Givendale he was inspired to produce a series of smaller portraits and Yorkshire scenes and landscapes. They included paintings of Singleton's daughters, Julia and Rebecca, and a view of Givendale Church; while one of his best known still-life works, 'Dead Pheasant and Fruit', is said to have been painted at his London studio after receiving a delivery of game from the Givendale estate.
Etty's letters mention his visits to Pocklington and Givendale, and give us an insight into how much the town changed in the first half of the 19th century - a period when numerous old Pocklington buildings were being replaced by Victorian constructions, many of which still survive today.

In November 1838 he stayed at Barmby Moor with a nephew, Rev WH Etty, vicar of Barmby Moor & Fangfoss and curate of Yapham & Meltonby, and wrote to his brother, Walter: "I had a horse and gig and man to take me to Givendale, Mr Singleton's residence on the brow of the Wolds, the day was fine tho frosty and cold – I was driven thro Pocklington–– at my request –– the Beck, the School House in which I first imbibed Master Hall's lessons, the Water Mill, and Tan Yard opposite, are no longer to be seen like old friends swept from the face of the earth the old church stands just where it did – and some places are as they were – but poor John Calverley, the ingenious, planning and benevolent Uncle Calverley is not there." After describing his time with the Singleton's he added: "this country you would like– it is hilly and commanding a view of magnificent extent over the Vale of York – and the smoke of Pocklington rising around the old tower of the church in the sunshine." In another letter to his brother a decade later in 1848 he described getting the mail coach from Hull to Pocklington then dismounting and walking up to Givendale.

As his reputation and fortune grew, Etty produced a series of large (6' x 9') classical canvasses, and found his works in demand from both art patrons and galleries throughout Britain. He had been elected a member of the Royal Academy in 1828, and his crowning glory came just before his death, in York in November 1849, when there was a major exhibition of his work at the Society of Arts in London, when 133 of his paintings were displayed.

Etty had spent considerable energy and personal expense of the restoration and preservation of York Minster, and it was his intention to be buried in his beloved Minster. But although he left a considerable fortune of £17,000, he had omitted to make specific provision in his will for the 500 guineas that a Minster burial required and he was laid to rest in St Olave's Church next to the museum gardens.