This water mill was operating in Pocklington from early times (1595 is the earliest named reference) and was originally owned by the Dean of York. It is known to have burnt down in 1805 and rebuilt (Ref. Allison). It is a brick and slate building of two stories, a third story was removed at some point. The water mill was fed from a dam and the mill had three stones, two of which, according to Allison, at the time of his writing, were still in place. A miller is last mentioned in 1879, but the mill continued in operation grinding corn until 1920, and then operating a turbine to generate electricity until after 1937. The building has now been converted into a private residence.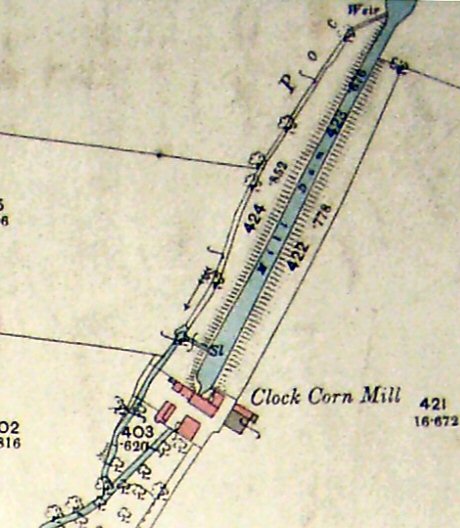 1891 Ordnance Survey Map

The York Herald - November 17, 1881

Clock Mill today - a private residence

Millers of Clock Mill

1879 PO Directory
Rowntree Thomas, corn miller & farmer, Clock mill
1858 White's Directory
Hodge J. S., Clock Mill
1851 White's Directory
Hodge J. S., Clock Mill
1851 Census
John Scaife Hodge, b. Ousethorpe age 28
1844 William's Directory
James Cains
1844 DDKP/7/42- Kilnwick Percy Documents - Beverley archives

Extent
1 Item
Title
Assignment relating to the manor of Pocklington
Date
3 Aug 1844
Description
Parties:
1) Sir Richard Brooke of Norton, county Chester (executor of Thomas Brooke)
2) John Atkinson of Leeds solicitor, in trust for Robert Denison
Property: recited mortgage term in manor of Pocklington with capital messuage, messuages and closes (names Dove Buts Close, White Mill Close, two Brick Kiln Closes, Mandeland Close, four Bishop Croft Closes, Cawkey Beck Close, four Burmby Closes, four Sour Toft Closes, two Swan Closes, three Beckland Closes, Paddock, three Underwood Closes, two Middle Closes, Browgate, three Brants, two Beckland Closes, Bottoms, Burnby Cross, two Intacks, Hill Side Close, two Longland Closes, Gove Close, Foulsike Bottom Close, White Mill Close, five Foulsike Closes, Underwoods, Top Wood Close, two Scrogwood Closes, Tenter Row, Bottoms Close, two Underwood Closes, two Hillside Closes, Tow Mill Garth, the Woods, Beckland Close, and Clock Mill Close)

1841 Census
Henry Cains (who had married widow Hannah Scaife in 1840)
1840 White's Directory
Hannah Scaife, Union st.
1834 Pigot's Directory
John Scaife, Clock Mill
1831 White's Directory
J. Scaife, Clock Mill
1823 Baine's Directory
Ellen Smith, Clock Mill
1792 Deeds Registry
Joseph Terry, Clock Mill in 7.5 acres
1752 QSF/176/B/28
Indictment of William Easton of Pocklington innholder: - erecting a holdstock in the highway against Clock Mill Lands and adjoining Saint Foil Close at Pocklington.

1563 Thomas Bishop

'Yorkshire Fines: 1563', Feet of Fines of the Tudor period [Yorks]: part 1: 1486-1571(1887), pp. 273-279. URL

Manor of Pocklyngton and 60 messuages, 60 cottages, and 3 watermills with lands in Pocklyngton, Fangfosse, Beurnebye, Byelby, Meltonby, Yeolthrop, Owstroppe, and Waplyngton, which, after the decease of Thomas, remain to Francis Bysshop, his son, and his lawful issue, failing such, after his death, to Thomas Bisshop, the second son of Thomas, and his lawful issue, failing such, after his death, toRichard Bysshop, the third son, and his lawful issue, failing such after his death, toMargaret and Alice Bysshop, his daughters, and their lawful issue, failing such, after their deaths, to the lawful issue of Thomas Bysshop, the father, and failing such, to Thomas, Earl of Northumberland, and his lawful male issue, failing such, after his death, to Henry Perey, kt., and his lawful male issue, failing such, after his death, to the Queen, and her heirs and successors.
1617 from:
'Deanery Leases 1617 - 1688' York Minster Library
The Dean of York leases Clock Mill and White Mill and water courses to Thomas Dolman for 60 years
1136-1142
'Early Yorkshire Charters' about Adelulf/Athelwald's land grant to the Dean of York
Grant by Adelwald, bishop of Carlisle, to the deanery of York and to William, dean, and his successors, of tithes of the mills of Pocklington and of his demesne and the whole soc, as- appointed and confirmed by Henry I..1136-1142.
Reference: East Riding Water-Mills, by K.J. Allison, published by East Yorkshire Local History Society

If you wish to add to the story of the Clock Mill, or correct any of the above information, then please contact me.