William Watson – Land Surveyor (1784-1857)
Two of the most important, and unique, maps of Pocklington were made by a remarkable man called William Watson a land surveyor of Seaton Ross, who eventually settled to live in Pocklington. His first map of Pocklington was made in 1844 which shows buildings shaded and stippled, roads yellow, water blue, grassed areas green.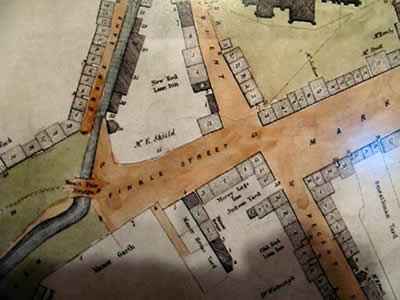 Part of William Watson's 1844 Map
The 1855 Map had a considerable amount of further detail. Watson managed to combine the detail of what the houses actually looked like with the names and professions of the people who lived in each house. He did the same with a map of Market Weighton and I believe another one of Seaton Ross which I have not seen.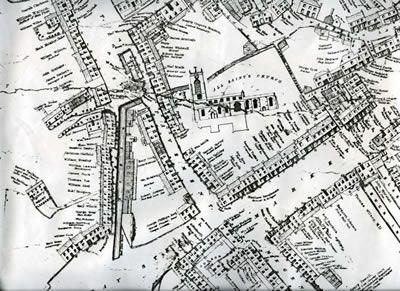 William Watson's map of Pocklington of 1855
Both maps are available to purchase from Pocklington Town Council (see the links page).

Ref: Harris A. – "An East Yorkshire Land Surveyor: William Watson of Seaton Ross" Yorkshire Archaeological Journal Vol 45 1973 pp 149 - 157