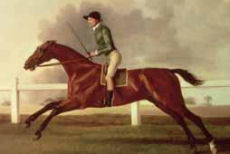 Mr JOHN SINGLETON, Snr This eminent rider who in his day was esteemed the first horseman on the turf was born at Melbourne, near Pocklington Yorkshire in the year 1715, the register of his baptism in the parish church being there recorded "John son of John Singleton of Melbourne, baptised May 10th 1715".

The father must have been a clever person for he supported a wife and nine children on the small wages of 4d per day. On his death the family were dispersed and the subject of this memoir was hired at the age of 10 years, along with other boys to tend the cattle on Ross Moor, a large bleak common belonging to Melbourne and several adjoining townships, from thence he had a view of the Wolds hills about eight miles distant where he heard that racehorses were kept and boys to ride them, this appears to have suggested racing in the minds of him and his companions and induced them to catch the young horses on the common which they raced against each other, but being caught for the fact and corrected for it, for once in his life he levanted and was found early next morning at the stable door of Wilberforce Read Esq. who being in want of a boy engaged him on the splendid terms of board and lodging which was sleeping in the stables and eating in the kitchen when there was anything to get. Perhaps some notice of Mr Read would not be amiss. He was a gentleman of good family of very slender portion which was expended in stocking a farm rented under the Earl of Carlisle at Grimthorpe near Pocklington a place adjoining the Yorkshire Wolds then unenclosed an extensive tract of fine elastic turf formed by nature for equestrian sports on which horse and rider equally rejoiced.

The neighbourhood was a sporting one; every village had its annual feast and every feast a race; the smallest prize brought a number of competitors to the post. No wonder this gentleman caught the epidemic of the country. He soon changed his bullocks for brood mares and his calves for colts which he trained himself. This passion for a racehorse added to a prejudice for his own breed had at this time nearly brought him to his last stake, yet under every difficulty he still kept up the appearance of a gentleman and though often hard whipped and spurred by that jockey necessity he never swerved from the course e of honour His land produced hay and oats for his horses and barley for the bread on which he and his frugal household subsisted. He was sanguine enough to think he should be able to pay his rent from the winnings of his racehorses and in consequence was much in arrears when Singleton came to his stable door. From this day began a connection that lasted nearly half a century and a friendship that only ended with there lives. Both are buried in the same church.

There is room to speculate what secret cause attracted these two worthies and formed a union from materials apparently so dissimilar. The one by rank and fearful of losing caste, the other a poor staved ragged orphan; there was nothing in common except the love for horses and a want of cash; which perhaps the gentleman only felt. The lad was delighted with the terms of his first engagement, he had got upon a racehorse; hunger and cold and all the hardships of the past were forgotten, he only saw only the bright prospect of the future. There was plenty of riding at the feasts, where he soon distinguished himself, and partook of the good cheer stirring on these occasions as a reward for riding; there was no money. The prize contended for being only a saddle or a bridle, left little for the owner of the horse and nothing for the rider except the laurels of victory, fit emblem of fame leaves without fruit. While yet a child in years he became noted for his seat on the saddle and his judgement in riding. A farmer delighted in winning a bridle worth perhaps half a crown at three or more four mile heats made him a present of a sheep which his master agreed to keep for him in lieu of wages. The produce of this ewe in a few years amounted to a dozen or more when an event occurred to change the system. From riding all sorts of horses the genius of Singleton soon discovered the of those that had a cross of the Arab over the old English racer, and advised his master to put his mares to a stallion of this kind but neither of them had any money, when Singleton gave up his sheep for the purpose and Mr Read agreed to give him £5 per annum as wages. One mare was put to a horse from Hampton Court stud (Mr Gallants Smiling Tom) which produced a filly called Lucy which won the Subscription over Hambleton in 1736 beating a large field. In the early part of the following year she, their only hope being amiss was beat. Winter was approaching, cash scarce, when Singleton planned to take her to the north and set off for Morpeth distant 120 miles from Grimthorpe with only 10s 6d in his pocket for expenses acting the part of groom stable boy and jockey in a strange distant place where he knew no one and when asked whence he came said Grimthorpe.
Where was Grimthorpe? It was near Pocklington. And where was Pocklington? It was near York. He was laughed at for coming so far with a small slender filly as she appeared when compared with her competitors. At this moment preparing to saddle and mount all to be done by himself then a youth unwell and harassed with cares and fears to his great joy a butcher from Pocklington turned up who came to back the mare for which purpose he had ridden all night except resting himself and horse for a short while under a haystack. And being a stout sturdy fellow he soon cleared a way assisted him to mount took the odds she was not distanced, then backed her to win to the extent of his purse. The plate was secured with two others at Stockton and Sunderland; and this laid the foundation for the future success of both Read and Singleton. Mr Read bred several winners and a filly which the Marquis of Rockingham purchased engaging Singleton at the same time at a salary of £40 per annum; a great advance from £5 of which 20 years was then due for which Mr Read gave his bond. Success appears to have departed with Singleton for though Mr Read continued his Stud and his training, yet when Singleton came to reside on his property, he found his old master nearly in the same state as when he first knew him, his stud for want of proper crossing was blood without bone and the farm without any other stock; he therefore invited the old gentleman to dinner, showed him the bond with twenty years of arrear of interest then threw it on the fire and persuaded him to change his high bred colts for sheep and cattle thus enabling him to pass his last years in comfort.

For several years before Singleton left Mr Read he had a great part of the riding in the county and was so successful that he purchased estates in the adjoining township of Great Givendale the scene of his early struggles and difficulties in life. About the year 1751 he went to reside at Newmarket where the Marquis of Rockingham had a large racing establishment which he placed under the superintendence of Singleton and engaged him to train and ride all his horses which ran in the south; but during the winter months the young stock were prepared and made ready for going into work at Swinton near Wentworth House (the Marquis's seat) Yorkshire by one Lund and at the conclusion of the Newmarket Spring meeting, when the horses engagements were run out there and they were intended to run for stakes at York and Doncaster (to both of which meetings the Marquis was a great supporter); the horses were sent under Singleton's inspection to a place called Thixendale, near Malton, where Singleton had purchased two farms, built stables and other conveniences thereon for training which he considered was the best ground for the purpose of any in the kingdom; and from this place they not infrequently departed to win many of the best stakes, and defeat most of the first rate horses in Yorkshire. The Marquis of Rockingham was one of the best supporters of the British turf which hew patronised both at Newmarket and in the country; and such was the regard and esteem for Singleton that he employed the first artists of the day to paint the subject of this memoir riding many of his favourite horses and gave several of these pictures to Singleton who appears to have been treated as a humble friend that as a servant.

After the great races between Bay Malton, Herod, Turf and Askham over the Beacon Course at Newmarket First Spring Meeting 1767, for 500gns each the Marquis ordered a gold cup to be made on which the figures of Bay Malton and his rider are richly chased, with the pedigree and the performances of that celebrated horse engraved thereon, also a statement that it was offered and not accepted to run any horse giving him 7lb, either over the flat for speed or over the six mile course for stoutness and that he presented this cup to John Singleton the rider of Bay Malton. Singleton at the same time received a silver salver on which is engraved all the above horses and their riders contesting the race, from an eminent silversmith who though he lost money on the race sent it as a mark of admiration of his riding. He continued at Newmarket until the year 1774, when he resigned his green jacket in favour of Christopher Scaife who had married one of his nieces. During his residence at Newmarket he rode many of the great races besides those in which the Marquis was engaged, and also kept and started several horses in his own name and that of his confederate Mr Ottley and was so successful that he educated and provided for many of his poor relatives, besides purchasing some valuable farms and the major part of the township of Great Givendale; on this later he built a house and stables and so on leaving Newmarket came to reside there, breeding a few horses which he ran in the country but without his usual success which he attributed to being unable from age and infirmities to give them that attention he had formerly done. In November 1769 he married Mrs (Ann) Jackson widow of Peter Jackson rider of some note and the nephew of Thomas Jackson one of the best horsemen of that day. She was a person of some attainments and the nobility and gentry who attended the Newmarket meetings called upon Singleton to see his stud and their ladies to taste Mrs Singleton's cakes and made wine for which she was celebrated.

In 1774 they came to reside on his estate at Great Givendale where he supported the character of a country gentleman keeping a hospitable home, respected by his neighbours and beloved by his dependents. He died in January 1793 leaving a widow and four children, two of them sons one of whom a short memoir is given. His widow survived him a few years and is buried near him. His posterity posses the estate with several pictures and other memorials of the turf in olden time depicting and illustrating the stirring scenes in which he moved. They also appear to inherit little of his spirit breeding and starting a racer now and then in a quiet way and one of them distinguished himself as a gentleman jockey. Singleton appears to have been treated more as a humble friend that a servant and that he deserved it by his faithful services no greater proof can be given than that he had only two masters during half a century and his attachment to both forms an honourable trait in his character. From pictures now extant of Singleton he appears to have been about the middle size with a broad chest, as strong arm, and a quick eye, to which may be added a cool head and nerves which nothing could shake, for in the last years of his life he could lift his full glass of wine without the least tremor. See him mounted for the race, see him out to course, observe the set out the condition of his greyhounds and his hunter, the celebrated Merry Bachelor, his dress and gold laced hat, the costume of a squire of that day and Pat would say there goes a real jintleman and he was such by nature. He retired from a dangerous profession after fifty years spent in it without a stain on his character. Thus is shown what genius and perseverance can perform. In his race throughout life he started the last in his village and at the end he was the first,

"Act well your part, there all the honour lies"
THE SINGLETONS, Junior
In the notice of Mr John Singleton sen (page 103) it will be seen that he married the widow of the well known Peter Jackson, by whom he had a family.

The son MR WILLIAM SINGLETON was born at Newmarket in 1779 who in his youth went to sea but afterwards returned to Newmarket and resumed his fathers profession where he rode very frequently and attracted the particular attention of the late Duke of Grafton; but being of an unsettled disposition he sold his estate which was at Meltonby went abroad and died in Jamaica.
Another son JOHN SINGLETON (MA) did not follow his father's profession and is now residing on his paternal estate at Givendale. Like the Edward's of the present day, the parent stock may be said to be jockey's by nature.
At the period that Singleton (sen) left Newmarket in 1774 he had in his stables two nephews, William and John, the former rode in public occasionally, but became too heavy for a jockey and died young. The latter was MR JOHN SINGLETON Junior
The family state to be the jockey that rode Lord Rockingham's br or b f. Alabaculia by Sampson when she won the first three year old stake at Doncaster in1776 afterwards named the St Leger Stake. He afterwards went to France where he had management of the racing stud of the Duke of Orleans father to Louis Phillippe, the present king of the French. He returned to England previous to the revolution and resided a short time at Newmarket, and was afterwards 'mine host' of the Cross Keys at Dringhouse nears York. Prior to his going to France he married a Miss Lund daughter of Mr Lund (before noticed) groom to the Marquis of Rockingham by which marriage he had a son who was born in France and was also named JOHN SINGLETON
This third John Singleton was intended by his father to follow the medical profession being apprenticed to Mr Lund his maternal uncle a surgeon at Sheffield; but the riding passion could not be curbed for he "threw physic to the dogs" and like his great uncle ran away to Newmarket and went to the Duke of Bedford's stables under his grace's trainer Mr Stephenson where he soon came out as a rider of great promise and was occasionally employed by the late Earl Fitzwilliam for whom he won the Doncaster St Leger on Orville . The budding promise which the younger Singleton gave on arriving at a first rate eminence, Providence, however, willed should never reach fruition, for he only survived his first St Leger victory by a few months as he died at Newmarket in December 1802 at the age of 26 years highly respected and esteemed by the noblemen and gentlemen who employed him and lamented by all his acquaintance.

"Why is it thus that fairest things,
The soonest fleet and die?
That when most light is on their wings,
They're then but spread to fly."