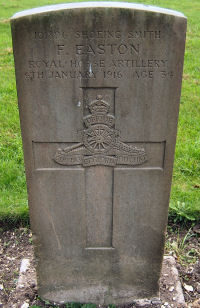 The Easton family trail is a difficult one to track down with a great deal of certainty. There are several Easton's plying their trade in Pocklington, but our family can be traced back to 1823, and John Easton a Blacksmith on Church lane (and possibly further back to 1791 where there was a John Easton, Joiner). Is this John the Blacksmith, or his father? All the Easton's were born in Pocklington, or the place is given, and the following details are as close to the true history as possible.
We start in 1841, where in Church Lane, Pocklington, John Easton, a Blacksmith, and his family reside. Born in 1750 he is 90 and without a wife, presumably she has died (as 90 is a very good age). His son William, was born in 1794, and lives with him, along with his wife Charity, born in 1813 (nee Rispin).
Residing in the house is John Briggs aged 15, William Briggs aged 14 and James Briggs aged 12. Could these boys be sons of Charity, from a previous marriage? In the 1851 census, William and Charity have four children. William dies in 1878, and Charity one year later 1879.
Marianne Easton was aged 1 month at the time of the 1841 census; there is no record of her death and also no record of her after this time. Presumably she had died. Charity went on to have Mary Ann.
In the 1851 census, Mary Ann, born in 1841, marries John Coverdale Shields in 1864. They do not have any children and we cannot find a date of death for Mary Ann, but John Coverdale dies in 1901, aged 60. James Rispin, born in 1843, is married to Mary in 1867 and James dies in 1900, aged 56. Lydia was Born in 1845 and then disappears, and we can find no trace. Elizabeth, born in 1849, we can find nothing more than she was still at home in the 1871 census.
In the 1861 census, James Rispin Easton is a Blacksmiths apprentice, Mary Ann is a dressmaker and Elizabeth a scholar.
We find the family has moved on in 1871, with William and Charity still in Church Lane with their daughter Elizabeth, whilst James Rispin Easton a Blacksmith is living in Scaife Lane with his wife Mary (born in 1848 in Warter). Mary had married James R. in 1867, and in 1871 they have two children. There is, however, record of a William Easton (born in 1872, in Pocklington, and dying the same year).
James, born in 1867 in Warter, and Sarah Elizabeth born 1869.
In 1881, with William and Charity now dead, James R. has moved to Church lane to take over the Smithy, and has increased the brood, with Mary Ann, Margaret S, John William and Henry.
There is the sad loss of Mary in 1888, but the 1891 census shows us that James R. and Mary had two further children Fred and Arthur. William has now dropped the John from his name on the census, and young James, now 23, is now working as a Blacksmith in Buttercrambe, near Stamford Bridge, for John William Dicklow, aged 24, of Gate Helmsley.
James Rispin Easton dies in 1900, and with that the next generation takes over the family business. James comes back from Buttercrambe, he is now married to Polly from Londesborough (in 1894). His three brothers; Henry, Fred and Arthur reside with him and all working as Blacksmiths in the family business.
James ("Jim") Easton was a blacksmith in Church Lane in Pocklington. In the 1911 Census. See his photograph.
Mary Ann aged 26 is now working as a servant at the home of Alexander. D. H. Leadman, a Physician, Surgeon and Apothecary, at what is known as the Oakhouse (Arts Centre) looking through the directories there is no record of a Dr. Leadman practicing in Pocklington.
Coincidentally, there is a James Hagyard Easton born in 1914.
There is no sign of a Polly Hagyard, although the family is quite extensive in the Londesborough area, and she may quite easily have used a preferred name rather than her own.

Fred Easton later died of pneumonia at Woolwich 6th January 1916 whilst serving in the "P" Battery Royal Horse Artillery as a Shoeing Smith, he was buried in Pocklington cemetery on Monday 10th Jan 1916 with full military three shot volley.