Simeon Templeman was a famous Jockey who won the Epsom Derby three times. In 1839 he won with Bloomsbury, followed by an 1847 victory with Cossack and the following year won again on Surpice. Other notable victories included the Oaks in 1847 on Cymba, and repeated it in 1855 aboard Marchioness. He won another classic race, The St. Leger, in 1851 on the horse Newminster owned by a bloodstock Newcastle chemist Anthony Nichols. He built Burnby House with the proceeds of his wins and died in 1884.
Simeon was born in Everingham into a farming family and he later left the family to live in Burnby. His small wiry stature meant he was ideally suited to leave school and join Tommy Sykes stables in Malton. His first public ride was at Malton races in 1819 was on Unity, owned by Pocklington GP, Dr Bell, he then spend time at Meiklam's stable in Middleham where he gained experience. In 1821 he rode his first winner at Catterick races and then started his winning ways on many local courses. His racing style drew much comment, which was his peculiar style of riding with his legs sticking out so straight that his toes were in front of the shoulders of the horse.
He married Sara a daughter of Sylvester Reed, landlord of the Old Sandhill Inn, in Colliergate, York and they had three children. His patron became the sixth Duke of Leeds a descendant of the owner of the famous Godolphin Arabian. Together they had many successes. By 1839 he started his successful classic victories with other patrons from Newmarket. His first ride to victory n the Derby won at odds of 100/1 and Sim had backed himself with a ten pounds bet!
He won the inaugural running of the York Ebor in 1843 when he rode Pagan for Colonel Craddock. In 1855 he rode his last St. Leger and was unplaced, after the crowd were convinced his horse had been 'stopped' by Templeman to allow victory by Acrobat which was subect to some heavy pre-race betting. He was almost lynched by the crowd only to be halted by the stewards enlisting two prizefighters who happened to be close by. He tended to mix with questionable individuals, and doubts were expressed about one of his Derby winners being a four-year old that had been illegally entered as a three-year old.

Soon after this Simeon retired to live the life of a gentleman at Burnby House, near Pocklington. In addition to building Burnby House with his winnings he became the owner substantial land and property in Burnby, Hayton and Pocklington. He bought a house on the Balk in Pocklington in 1840 and renamed it Bloomsbury after his horse, a name it still bears today. His son Edward took over the running of the Estate and Simeon retired to a terrace house in Heworth, York and was buried in York Cemetery.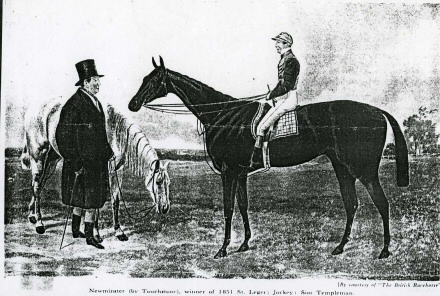 THE STORY OF BURNBY HOUSE.
From the "Pocklington Weekly News" – August 24 1895
"If walls could speak." is an expression we are fond of, and generally leave it to be inferred that if they did speak, it would be something very tragic and blood-curdling they would say, They might also tell a few odd and instructive tales besides, particularly if they consented to be questioned how they, the said walls ever got into their place. Here is one such story. Tbere stands a thatched cottage in the village of Burnby, near Pocklington, where previous to 1840 one lived who was always known as Sim Templeman, Those were days prior to the times when jockeys made more than Prime Ministers and when Princes sought their acquaintance, and if it cannot be said they were days prior to the art of pulling and selling a race, yet there is every reason to suppose such practices were by no means frequent. This will account for a well-known jockey living in a thatched cottage wearing home-spun suite, being devoted to his wife and children, being churchwarden oi his village, and showing other signs of respectable, if humble, life.
There now stands within sight of that cottage handsome mansion, known as Burnby House, with grounds and gardens, evidently a gentle­man's place. Many elderly people in the East Riding can remember being taken to see place, and learn how large a house could be built for £2,000. How came the inhabitant of that cottage to build that house, and go and live there '?

At the time alluded to there was no more lavish and generous patron of the turf than Lord George Bentinck, for whom Mr John Kent trained. Lorge George, who, as Mr Greville says, never did anything by halves, kept himself and his trainer at work for more hours a day than a galley slave would have stood. There were ninety-five men and boys employed in the training stables at Goodwood. Five women were daily employed in filling in and levelling the tracks and indentations made by the feet of the horses wben they galloped. It will readily be believed that Kent seldom had more than four hours in bed, and in the racing season none at all, for most nights he was travelling with the horses from one meeting to another. The letters of Lord George to his trainer often filled four, five, or even six sheets of note-paper, and he would send for him up to London, and keep him talking about his horses till five in the morning. Truly, big kindness and consideration for his horses in other ways was unbounded, and Mr Kent had said that if he could have fancied "fried sovereigns," they would have been placed on the table. No expense was spared, and when it is remarked that horses did not yet travel by rail, but by van, that it required eight pairs of post-horses to draw them, at a cost of two shillings per mile for each pair, it will easily be reckoned up what was one item of expense when the dis­tance to Newmarket and Doncaster from Goodwood is considered. All this is necessary to understand the full force of what fallows. The late Mr Rudstone Read, of Hayton, near Pocklington (Billy Read, he was to his friends), strolled into White's Club in Brook-street, on the Monday afternoon before Whit-Sunday in 1837, and then found the room deserted but for Lord George, who was sitting as though dazed and ill, a most unusual attitude for his ener­getic Lordship. Though friends, Lord George took no notice of " Billy," who", sat himself down. After an interval the silence waa broken by a desponding sigh, and " I'm done," from the nobleman.
This gave Mr Read an opening, and oppor­tunity to inquire. "How's that?" , "Bill Scott is down with typhus, and Elis hasn't a rider." was the reply.
It may be necessary here to explain that Elis was the favourite for the Derby, which, is always run on the Wednesday before Whit-Sunday, so for the horse's rider to be seized with typhus on the Monday preceding looked like a case of scratching, unless a rider could be found. But what jockey, the least capable of riding a Derby favourite, could be likely to be disengaged two days before the great event.
"It's not merely the loss of the race, "Lord George went on, " proud as I am oi my stables; but it's the money. I stand to win £26,000, or to lose just four times as much."
Bill Read slapped bis thighs so loudly that Lord George actually started, and followed np this by the exclamation : " A miracle," '' A miracle ; a fellow sent down from heaven on purpose, like Ganymede,' or—
" What.s his name," said Billy, mixing up his classics a little, for Ganymede was taken up, not sent down from the celestial regions.
He then went on to explain that he had travelled up from Yorkshire with his neighbour, Sim Templeman, who was engaged to ride another horse, that on his way to the club he had fallen in with Sim again, looking very crest fallen, and learned trom him that his mount had gone lame, and unwilling to bear the disappointment and view the Derby as an outsider, when he had hoped to be " quorum magua pars," he was going back to Yorkshire by next mail.
To learn his starting place, to call a cabriolet, to go off as hard as they could pelt, was the work for a few minutes. Sim was already seeing to his portmanteau for his journey home.
" Sim," said Billy.
" Sir," said Sim.
" Here's Lord George come to ask you to ride Elis for the Derby, Bill Scott's down with typhus."
" What! the favourite ?" inquired Sim.
" Yes, the favourite," said Lord George, and seeing a doubtful expression come over Sim's honest face, he hastened to say, " and there's a thousand pounds for you if you win, too."
Now to take in the farce of this promise, it will be necessary to recall what was state! at the outset—that in those days jockeys, instead of dying millionaires, lived in thatched cottages. It waa about the time when Lord Airlie, after the victory of his horse " Glinoheg," went up to his jockey and gave him £100, and Lord Derby proceeded to lecture him in very stinging language upon the impropriety of demoralising a jockey by such unusual generosity. The magnitude of Lord George's promise (nothing in comparison with what happens to-day), will thus be duly appreciated.
Sim Templeman left alone, sat on his box and ruminated. One thousand pounds was a fortune to the humble-minded man. " Not that I shall ever get it," he continued to himself. " I never could get the stuff out of a horse that Bill Scott could, but still if I did win it, I know exactly what I would do. I'd build each a place in dear old Burnby as would make the parson himself open his eyes."
This is no place to dwell upon that eventful Derby, Suffice it to say that Sim rode in his own way, and never moved in his saddle, or lifted his whip. He rode the whole course, the most difficult and dangerous course it ia possible to conceive, his hand and neat keeping perfect time with the home's action. The Derby is generally won by the horse which strides farthest down hill, and Sim encouraged his animal to stretch himself out to the utmost. To say that Lord George was as good ae his word is nothing, he could not fail to do that. He was twice as good, and instead of £1,000, gave Sim £2,000.
There is nothing to equal Sim's home coming unless it was Lord Maoaulay's interview with hia publisher, Mr Longman, after his great his­tory had been brought out. The great writer went to the city for a little money. "What would he have—one hundred, two, five, ten ?'' " More than that." " Then .£5,000 ; and so on up to £20,000," for which Mr Longman drew a cheque. Mrs Templeman had set her mind on a little improvement in their cottage home, and had arranged with the carpenter for .£2. Could she have it ? Yes, and more, £40, £50, and so on up the gamut till £2,000 was reached, and the two new Bank of England notes for the full amount were laid upon tbe table.
Of course, alter sach an eventful victory, the fame of Sim Templeman rose. and although the Duke of Beaufort in his reminiscences of jockeys says he was in French parlance, " brilleot au second rang " and never attained to the very first, yet he added so much to his savings that he was able to live in comfort in the house he had built with his first £2,000, and so great a home-bird was he that alter he had finally settled down, it was said he never missed a service in church, and never slept away from Burnby as long as he lived.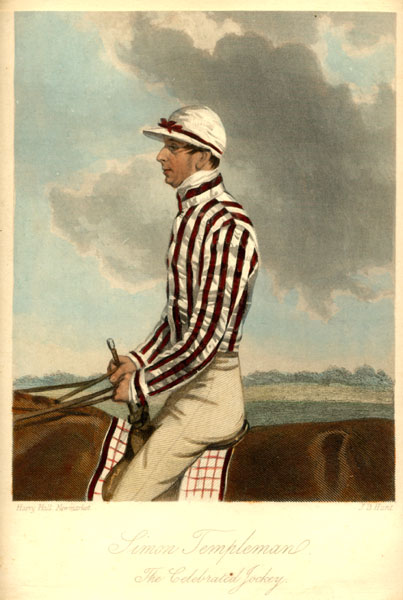 Simeon Templeman's Family by Phil Gilbank

Simeon Templeman was born into a long standing Everingham farming family which farmed at South Fields Farm.

Grandfather: John Templeman of Everingham married Ann Clarke 1760.
Father: Edward Templeman, born Everingham 1761, married Hannah Matthews 1796
Children:
Simeon, b Everingham 1805, jockey & landowner at Burnby, d York
Matthew, b Everingham 1807, Pocklington grocer and merchant for 40 years in Market Place, d Pocklington 1871
William, b Everingham 1809. Remained on family farm and also became veterinary surgeon living in Pocklington. d 1883
John, b Everingham 1815. Remained for some time on the farm, but also became veterinary surgeon at Market Weighton,

Some of Simeon's children remained at Burnby (son Edward Read Templeman was the principle landowner of Burnby and Hayton in 1892 - ?married into the Rudston-Read family who were squires of Hayton), Simeon junior became (b 1852) became a miller at Thorne.

John Templeman married Isabella in Everingham in 1840/41. He had two sons, John b 1854 and William b 1858 both b in Market Weighton. This William also became a jockey (was based at Lambourn in the 1881 census) but later became a farm baliff in Lincolnshire. He had at least three children, Mary Ann b 1886 (b Spalding), Frederick b ?1892 and Florence b in Newmarket in 1898 (presumably William was still involved in racing at this time). It was this Frederick (? b Hertford) who rode his first racehorse aged 13, and won the Derby in 1919. The family moved to Great Bradley in 1889 and lived there for some years.