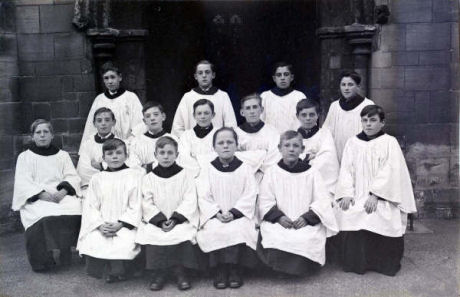 Choir Boys 1924-28
(courtesy John Eastwood)
Back row, left to right: Charlie Burton, Fred Trimmer, Stan Massey, Leslie Kirby.

Middle row, left to right: John Buckton, Ronald Eastwood, Leslie Eastwood, Eddie Barker, Douglas Stowe, Richard Thorpe, Harry Eastwood.

Front row, left to right: Joseph Eastwood, Richard Todd, Ken Simpson, RegWarters.

The vicar at the time was Rev Ian MacNaughton-Smith, curate Rev E L Dawe
and the organist Miss F Otley.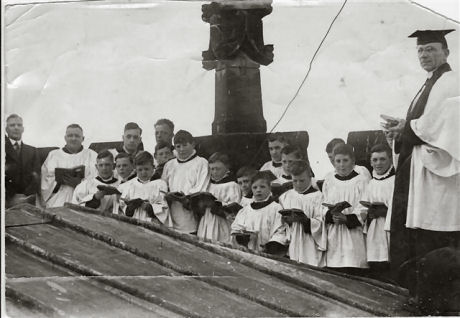 Ascension Day approximately 1934
on the roof of Pocklington Church
(Courtesy Ian Vickers)
Left to right: No. 4 George Tinson, No. 10 Bill Gelder ( part head showing ), No. 11 Peter Gelder. Possibles are No.8 Roland Hunter ?.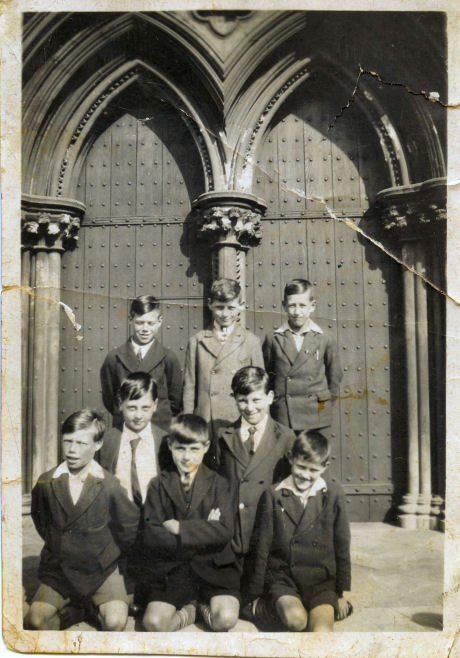 Choir boys singing at Beverley Minster 31st August 1934. They were 4 sets of brothers, Bill Barker (back middle) and his brother is on the front right (the Barker dairy family). Please update me if you know any names. (Photo courtesy Ian Vickers)