2:30 a.m., 1st March, 1941 and Alestree Road, Fulham, London, WS6, are not an auspicious time, date or address to be remembered, except those are when and where I was born. Actually, London was in the grips of another German air raid. After about three years after that event, my father and mother decided to move the family to Yorkshire for safe keeping. As the saying goes, better late than never.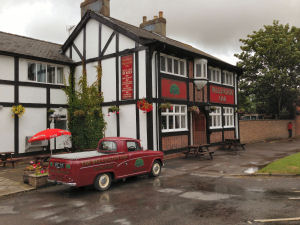 My grandfather, George Henry Vickerman, and his wife, Mary Vickerman, née More/Moore, either owned or managed the Wellington Oak Inn in Pocklington before, during, and possibly after WWII, although Kelly's Directory only shows him until 1933, and no later However, My brother, Derrick, and my older sister, Elsie Marjorie, stayed with them when my mother moved us to Pocklington. My mother, myself, and my then youngest sister, Cherry, a fifth addition being added in the '50s, in Essex, went to live with my uncle Alex Stark, a haulage contractor, who had his business premises, as a haulage contractor, on Barmby Road.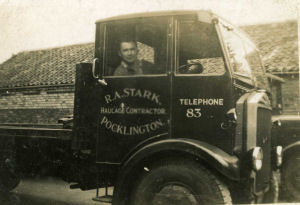 He was married to Winifred, the eldest daughter, of my grandparents. Their house was the second from the Pocklington airfield. They had two daughters the second being Diane but cannot remember the name of the first daughter. Diane died at about age 12-14 but I do not know from what, although probably it was related to a problem from during the war when she contracted five diseases at the same time. I was already in residence there, having been admitted earlier with the same problems. We were isolated at York Infirmary for weeks before being allowed to return home.
It was much later that I found the home squadron to be 102, the Ceylon Squadron, flying Halifax bombers. Many a time my aunt and uncle would invite off duty crews for a party in order to assist in the war effort and to provide them an opportunity to put their cares and worries aside for a short time. I, being so young, could not really participate but would sit on the stairs and, sleepily, watch the proceedings. Usually, the revelries lasted for some time but as the airfield stood just a short distance away all returned in safety to their billets.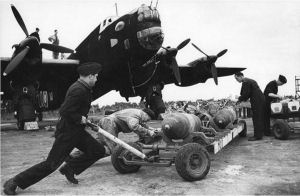 Many times we stood at the fence of the airfield, which was just outside of the end of my uncle's garden. During daylight hours, we could watch the planes being prepared for their raids over Germany, while chatting with the personnel preparing them. Bombs were trundled around on their trolleys and lifted into place, guns rearmed and tested – that was a little noisy and scary, engines and body parts repaired and put into working order, and a myriad of other things. My first ever time inside an aircraft was inside a fully armed Halifax, although it just consisted of a short trip along a runway to another location (all unofficial, of course).
At night, when there were operations, we would watch the planes wobble precariously along the runway for their departures and also waited for their return in the mornings. Funny how we could tell who was returning and who was not. That we did just by listening to the sounds of the engines. Also, by the sound of the engines, we became adapt at telling which aircraft were damaged. On many an occasion, we witnessed planes, coming in for landing, with gaping holes in them, and more often than not with bullet holes spread all over their carcasses. Some even had lost propellers or prop blades. Quite a few had to crash land and that created havoc with the ambulance and fire trucks racing into their positions ready to assist where needed. The sound of the planes pancaking cannot be forgotten. The planes would hit usually with a horrendous thud and then skid along the runway with the accompanying screech of metal being pushed along the airstrip until coming to a halt, sometimes slewing off from the path they were travelling and coming to a halt on the grass. Some would remain stopped without further incident, while the crews descended without any assistance required, although the plane could look a sorry sight. Others would catch fire whilst the aircrews scrambled to get away, sometimes dragging a body while they did so. A few crews never had that privilege as the plane exploded due to having fuel leaking from their damaged fuel tanks being ignited from sparks produced from the crash landing.
The Halifax stood out at that airfield but many other types of planes would "fly" in, including Wellingtons, Lancasters, Spitfires, Hurricanes, amongst others. Usually, they arrived in a state of distress having returned from bombing missions or flying/fighting German fighters and bombers and unable to reach their own airfield. The crews were just thankful of being on home soil even though at the home field of a different squadron. Each was afforded the same amenities and facilities as any crews of our home squadron would receive if the same happened to them.
Toward the end of the war, the airfield was given over to Transport Command at which time planes from the U.S.A. became the aircraft of the day. Although bigger than British planes they never had any problem flying from or onto the airfield, but we kind of lost a lot of interest as they did not have the same aura as the regular bomber command crews and aircraft did. However, that is when I acquired my second toy. One of the aircrew members had a block of wood transformed into a Jeep like vehicle complete with four wheels, steering wheel a seat and painted in camouflage green with a white star on the top of the bonnet.
Never were we allowed to scavenge for any souvenirs, such as empty shells, and bits of damaged planes. Instead, we were sometimes given such articles by work crews. On the odd occasion, unexpected VIP's arrived to brief aircrews on special missions and to bolster their morale but I am unable to remember many details of who they were.
The first school I attended, at age 3, was located not far up the road. The local railway crossing guard had a small cottage located next to the railway crossing. His hobby was constructing WWII planes, including painting them in authentic regalia, and hanging them from his living room ceiling.
After the war, my family reunited in London but I spent many a pleasant summer in Pocklington, especially playing with a discarded anti-aircraft gun located just inside the gate near the front of my uncle's house. We, my brother and elder sister would play at shooting down German invaders.
My other aunt, Ilma, married a Derek/Derrick Jones who was from Wales and trained as a Spitfire pilot but he did not see action as the war finished about the same time as his training, which I believe took place in South Africa. One of my worst memories, even today, stems from that ceremony. Being the ring bearer and I was attired in pink satin, a colour I have never since really appreciated.
Before returning to London, before the end of the war, I became involved in my first business venture. A couple of girls my age, and I, used to raid gardens and remove as many rose petals as possible in the shortest time imaginable. These, we took home and crushed them and mixed them in water and which we put into small bottles. Then we would sell our home made "rose water" around the neighbouring streets.
Although times were hard, we, my sister and I, did not realise we came from a poor London family due to the rich life we led outside of the home playing with other children, going to school, and even enjoying the company of some of the officers. My uncle maintained a kind of open house policy and many crew members would visit his house for recreation or a friendly cup of tea and a chat, when not flying. Crew members never abused that courtesy and usually sought permission prior to visiting. One Flight Engineer, named James "Jimmy" Tasker**, became a particular friend of mine and he kind of adopted me. Apparently he died on the last bomb run of the war to the south of Germany, although I have never been able to confirm the fact. He gave me my first toy, a rag doll with a ceramic head. Which, unfortunately my mother decided to discard when it was about age 50+ and did not tell me until I went to see her one year from Canada to where I had moved in 1966, and that was a sad event for me.
After the war, we returned to London but nearly every year I would visit my grandparents at Seaton Ross. My grandfather introduced me to hard graft on farms when he taught me milking, hay and straw collecting and carting and many other chores. Those lessons have never been forgotten. When I was doing my skill training at H.M.S. Ceres, in Wetherby, I often went to visit my grandparents for a day and usually ended up going for a bicycle ride with my grandfather and, then, inevitably, doing farm chores like mucking-out, pitching hay or straw, and the like.
On 6th March, 2015, David added the following Addendum:
In writing an article that was published in Pocklington History, a few slight errors were included, for which I extend my sincerest apology. Two genealogical resources were used and both contained inaccuracies of which I was not aware until recently. One major reason, for them took place as no primary resources were available for me to cross reference any material. Such documentation has since come to light so rectifications are now possible. Hopefully, nobody was offended. Below are the corrections.
My grandfather was indeed at the Wellington Inn but not during the war. At some prior time, he had removed to Shelley Woodhouse, now known as just Shelley, located near Huddersfield.
My grandmother was always called mother by my mother, gran or grandmother by the children and I never heard my grandfather call her by any name. Her name, I have found, is recorded as Elsie Moor, not Mary More or Moore. The genealogical resources stipulated she had two children, but that is incorrect, she did have three.
Regarding my aunt and uncle, they had three children, not two as reported; Yvonne, Judith, and Diane. For some unexplainable reason Yvonne had slipped through the cracks of my memory.
Finally, we come to the person I named as James "Jimmy" Tasker.
This person has been a long time enigma but now the truth about his name, last raid, and death were recently revealed to me. I believed his name to be James as his nickname was Jimmy. In fact, his name was Harold William Tasker of 10 Squadron stationed at RAF Melbourne not with 102 Squadron at RAF Pocklington.
His last raid occurred on the 5-6 March, 1945, over Chemnitz, in South Eastern Germany. The bomb being carried did not release as it was frozen in place and Jimmy, along with one other person, tried, unsuccessfully, to dislodge it. The pilot took the plane down until warmer air defrosted the metals and the bomb released. Shortly after, a German fighter plane attacked and the Halifax went down. The pilot and two other crew members survived but the reminding five did not, including Jimmy. They are buried at Babenhausen War Cemetery.
So that is the closure of that part of my life. The only fact left remaining to uncover, and I doubt that ever be revealed, is, where and when did he acquire the nickname of Jimmy?
Again, I extend my apologies to all who read my erroneous comments and accepted them. The above outlined details were only recently brought to my attention and are known to be correct.
The truth sometimes takes a little longer than expected to be revealed.
David J. Cottrell.