Older Updates




Bishop Wilton Local History Group was active between 2002 - 2012. It produced 20 bulletins of high quality research and information. They can now be purchased online and all revenues will go to Bishop Wilton Church. Visit the list of bulletins in the store.





The oldest film of Pocklington is the Memorial Parade of 1932. It shows the Legion of Frontiersmen marching out of the Territorial Drill Hall in Barmby Road, and the cadets and girl guides marching past the railway gatehouse on West Green.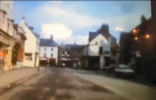 Old Film of Pocklington (n.b. Video now updated) taken in the 1960's has been added to the website thanks to Bob Sissons.. Also, a picture of the National School in the1950's , the Council School in 1953 and a picture of New Farm Chicken Factory in Target Lane.





Pocklington Fire Brigade was formed in 1897 following the 'great fire' of 1896. There were mentions of earlier fire fighting facilities in the town prior to this date (see the flax fire report of 1856). The fire station used to be located in George Street until destroyed by a fire in 1966 and then was subsequently moved to its present site next to the bus station.



Focus on Wilberfoss: Wilberfoss is now added to the District Pages together with The History of Wilberfoss as printed in Bulmers 1892 Directory. Also, a comprehensive article on Wilberfoss Priory written by George Beedham in 1917. A Gallery of old photographs of Wilberfoss.





4th August 2014 was the 100th Anniversary of the start of World War One, and to mark the occasion, Pocklington held a re-dedication of the War Memorial. The Pocklington and District Local History Group, in conjunction with the Pocklington Town Council, held an exhibition called 'Fallen Heroes' to commemorate the WW1 dead in early November 2014. Please see our page of Pocklington and District World War One heroes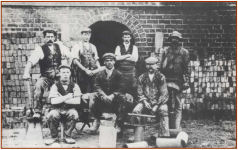 Brickmaking in the Pocklington Area researched and written by John Nottingham, whose ancestors were brick makers. Local brickworks including Pocklington and a large brickworks at Melbourne benefitted from the opening of the Canal to transport the bricks.




Bishop Wilton Local History Group was disbanded in 2012 following the sad news of the untimely death of it's founder, Mike Pratt. Mike created a super website on Bishop Wilton history and the original website has now disappeared from the internet. I have managed to rescue it and have uploaded it to the Pocklington and District Local History Group website to preserve it's valuable information. The Bishop Wilton Local History Group Website.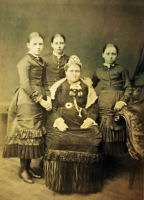 Dating and naming the people in old photographs is often a problem. Sometimes a photograph can ask more questions than provide answers. A case in point is the photograph of Elizabeth Askwith of Greenwick farm, Givendale. She died in 1867 yet a Tayleure photograph from the family shows it stamped in Market Place when Michael Tayleure did not arrive in Pocklington until 1870, and did not operate in Market Place until the 1880's?

Also, Edward Wilson Askwith of Millington, and a page on the Hutments at the Millington Camp at Ousethorpe.

Motor Cycling in Pocklington was pioneered by the Everingham family and the Tinson family. Wycliffe Everingham was a Flight Lieutenant, Motor Cycle & Wireless Pioneer and Engineer.









A set of photos has been sent which includes Yapham School around 1952 and Yapham School in 1953-54. A view from top of Yapham Mill and a lambing photo at the top of Givendale.






Pocklington's part in testing (very) early flying machines and also the early aeroplane landing grounds at Barmby Moor and how they were used in World War One and attacked by German Zeppelins.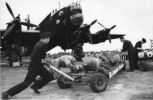 An eye-witness account of Pocklington airfield during the second world war. David Cottrell tells the story of his family who escaped the blitz in London to live in Pocklington and watch the planes taking off and landing on the airfield.



William Watson was a notable son of Seaton Ross. He was a farmer, map-maker, sundial maker, astronomer, musician and diarist. This remarkable man is studied by Malcolm Young.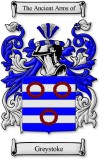 Grimthorpe Manor has a fascinating history. It is the site of an ancient Iron Age Hillfort and where the ancient manor-house of the barons Fitz William of Grimthorpe was situated, the name derives from an Anglo-Danish chief succeeded by William the son of Ulf, the Norman thegne. The Lords of Greystoke lived there for hundreds of years. The old stone Manor house was demolished in 1804 by the Denison family and a brick farm house was built on the site.




John Singleton was the first professional jockey and was born in Melbourne, near Pocklington. He started at the stable of Wilberforce Read at Grimthorpe. He was later employed by Lord Rockingham for whom he took part in all major races from the early 1760s until 1780. He later settled at Great Givendale where later generations of Singletons lived.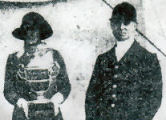 Nunburnholme Point-to-Point Races 1930's and Woldgate School 1962 class and Pocklington Choir photos.








Two photographs of Village Schools. The last class photograph of Yapham School in 1969-70,
and Fangfoss school in 1974.







Information and photographs about local aircraft crashes and incidents during the 1939-45 conflict and in the post war years.







More school photos. National School 1955 and National School 1956. More names for National School 1957, National School 1958 and National School 1959, new photo of Woldgate 1960.









The last Pocklington Agricultural Show was held in 1931 and before 1923 was the Horse and Foal Show.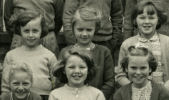 Pocklington C.of E. School Sept. 1954

With names, but no positions, can you match the names with the faces?

Let us know.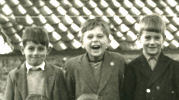 1954 National School photo.

Please let us know the names to the faces.






The extraordinary story of convict Jane James, a "Wholesale Plundererer" transported to Australia from Melbourne (near Pocklington), written by one of her descendants.



Jack Huck - Rat Catcher with his Jack Russell Terrier "Mick"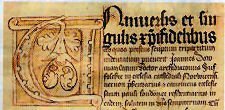 The Pocklington School Foundation Charter and it's story written by Phil Gilbank.







Dr. Kate Giles of York University Archaeology Dept., launches our Autumn programme!

'Richard III and the Middleham Jewel'

Stop Press: Dr. Peter Halkon confirms a date in October.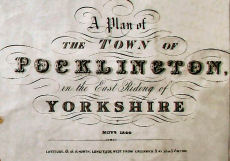 Easton's Directory of Pocklington for 1845 and index to the 1844 Watson map. Transcribed by Roger Bellingham.







The Silburn family of Pocklington - An important family in Pocklington with the name going back in local parish records for a number of centuries. They have links to the other old established family names of Singleton and Powell.






Pocklington National School Rugby in the 1940's
What are the boys holding? Does anyone know?






Pocklington ATC in 1945 and taken at Pocklington Golf Club. Do you recognise anyone?

*Latest - more information has been provided on the names.





Airfield memories of Dick Cains whose father Eric (pictured here) was a miller at Devonshire Mill, and a member of the home guard in 1942. He witnessed some remarkable sights of returning aircraft, the enemy bombing of the town, and became close to the brave crewmen who flew their missions from Pocklington.
Hull Daily Mail Oct. 1928 - Historical Mems: A History of Pocklington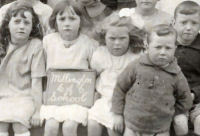 Millington school about 1920.

Do you recognise anyone?
Can you date the photo?

Adelulf - the forgotton bishop. Pocklington has produced many remarkablechurchmen from Medieval times right up to the 20thcentury, but none can be said to have had the impact of the town's first known cleric, Adelulf, who was one of the leading 12th century churchmen and politicians on both sides of Hadrian's Wall during the reign of Henry I.

*Parish Register Transcripts*

Roger Bellingham's Dade Register research
Baptisms - 1778 - 1788
Marriages - 1754 - 1802
Burials - 1752 - 1761

*Emigration* - East Yorkshire Emigration fascinating stories.

*Extracts* - The History of Nunburnholme from an article in the Hull Daily Mail in 1929.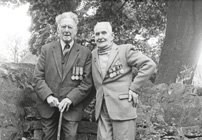 York Oral History Society has a collection of 285 recordings with WW1 veterans conducted in the early 1980s by Dr Alf Peacock. The veterans are from various parts of the country, but predominantly Yorkshire. They are planning to produce a book, exhibition and workshops in schools in 2014, using the material. They are seeking to contact descendants of the veterans in order to copy any photographs they may have, and are happy to give a copy of the relevant recording in return.
They have the following interviews with Pocklington area men –
George Barker, born 1877 Leeds
Hawksworth Barker (known as Oxy), born 1891
Oscar Bell, born York, November 1892
Thomas Flint, Pocklington, born 13 December, 1885
Bill Harrison, born Nunburnholme 15 July 1898
Arthur Aylett from Allerthorpe
Charles Richardson, born Kirk Deighton, 11 March 1898
Stan Robson, Pocklington, September 1893.
If you have any photographs of the above people then please contact the co-ordinator of the project, on vann@vanalexinamay.freeserve.co.uk.
*New* - Parish Records search. A new page with links for searching Pocklington Parish Records using the batch code feature of the IGI.

Pocklington Airfield memories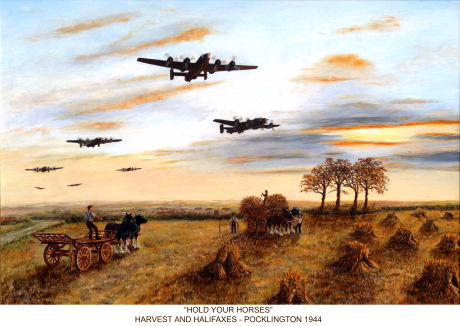 An original painting by Peter Smith depicting his memories of Mk.III Halifax bombers of 102 (Ceylon) Squadron leaving Pocklington airfield to rendezvous with others over the East Yorkshire coast before setting out for a raid over Germany in early September 1944. Read his memories here.

Manor History Research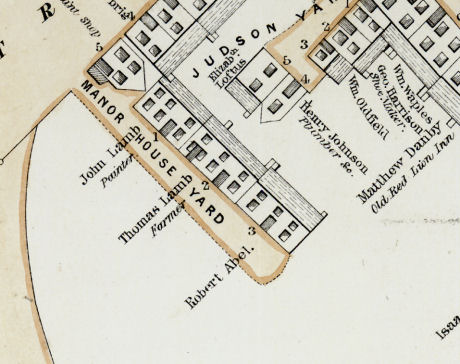 Watson's 1855 Map showing the Manor House Yard in Railway Street.

The PLHG have identified three Manors:-

1. The Royal or Dolman Manor
2. The Dean of York's Manor
3. The Hall Garth Manor

An overview of the Manor Timeline can be viewed here.

Update of Mill Research

White Mill page and the St. Helens gate Mill page.

William Watson's maps on the website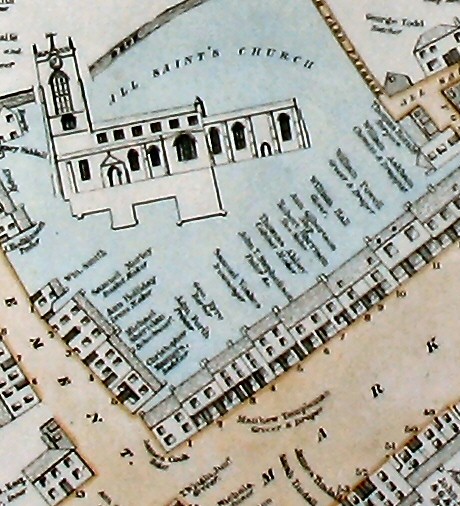 William Watson was a surveyor and mapmaker, who was born in Seaton Ross and lived in Market Weighton and Pocklington. In all the places he lived, he drew maps of, and the 1855 Pocklington map above was the last one he completed.
Archives -> Maps -> 1844Map -> 1844 Map of Pocklington
Archives -> Maps -> 1855Map -> 1855 Map of Pocklington
Pocklington Board of Guardians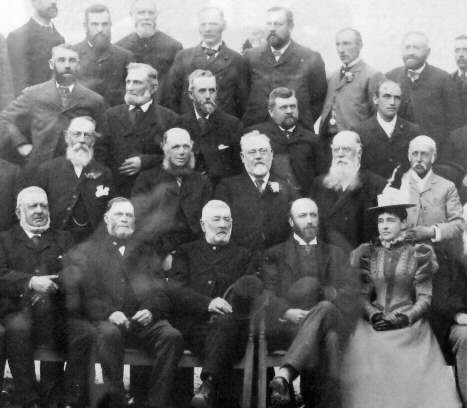 These distinguished ladies and gentlemen are the Pocklington Board of Guardians who looked after the Pocklington workhouse and the Poor of the Parish. A superb surviving photograph, taken in 1897, with all their names can be found in Burnby Hall, or by clicking the link on the next line. (The next line also shows where the index can be found on the Menu system for this site.)

Archives -> People -> Prominent People -> Pocklington Board of Guardians

Pocklington Survey and Valuation for 1824




A rare surviving copy was discovered in private ownership and has been typed and posted to the reference section of the Pocklington History website. It is a very valuable and detailed survey of all of the property and land in and around Pocklington in 1824. It mentions there is a plan to go with it, but unfortunately this has not survived.

Archives -> Reference -> 1824 Survey and Valuation

Pocklington at War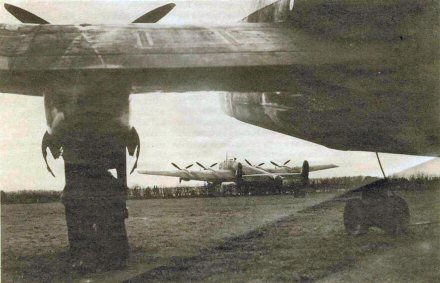 The town of Pocklington was greatly involved in the war effort to defeat Hitler's Germany. A large airfield was constructed in 1941 to the west of the town near to Barmby Moor and initially became the home of the Canadian 405 squadran with Wellington bombers and later the 102 squadran with Halifax bombers. The photograph above show Halifaxes by daylight at Pocklington in 1943.
A new section has been added to the website on World War 2. Choose:
History->20th Century->Pocklington at war->Early Days in Pocklington
History->20th Century->Pocklington at war->Le Creusot Raid
History->20th Century->Pocklington at war->That Fateful night

Pocklington is changing

The pace of change in the town of Pocklington is accelerating, and many old buildings and structures have already disappeared. The memories of residents, and photos of the old town need to be recorded for future generations. Many people around the world have family links with Pocklington and the local villages, and they may seek information that will give them some idea of where their ancestors lived, where they worked, and how they lived their lives. Pocklington History will not only give everyone an oversight as to what life was like in this small market town, but it is set to heavily expand in the near future - almost becoming an archive in itself.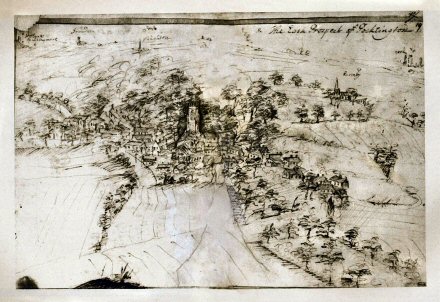 One of the earliest images of Pocklington drawn in 1719 (src: Samuel Buck)

Although the initial content of this website is managed and written by me, I encourage anyone that could supply me with any further information, photos, or even articles to get in touch. I can have your contribution uploaded and added as soon as possible. (The dark links in the menu are the pages that are still to be completed). I am archivist for the Pocklington & District Local History Group and can scan any items for immediate return.

I intend to create and transcribe much of the material published here but may use extracts from published work and give due acknowledgement. Pocklington has not fared well from published material but the definitive account is by David Neave called "Pocklington 1660-1914: A small East Riding Market Town" and still available for purchase in Forths.

Andrew Sefton.

Website launched: February 18th 2007.