Latest Updates
---


Burnby Lane Archaeology dig has been nominated for Rescue Project of the year by "Current Archaeology" magazine. This has led to a massive boost in our online petition, now with over 3000 signatures, to create a heritage facility in the town to store and display the finds. Please Sign our Petition and also check our progress in the Rescue Project of the year competition.
---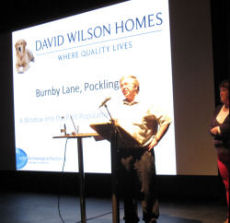 *Breaking News* - A further Iron Age update Talk

Rewriting history - how Pocklington archaeology is changing the story of Iron Age Yorkshire.

A number of people were unable to get tickets for archaeologist Paula Ware's recent talk about the finds of the Burnby Lane excavation. Paula is now concentrating on a new Pocklington project, so Phil Gilbank is going to recap the remarkable saga of the Burnby Lane dig, outline how it is rewriting our view of life and death in the middle Iron Age, the hopes for the future of the Pocklington finds, and an update on other recent archaeological excavations around the town.

The talk will be on Wed. 28th Feb. at 7.00pm in the Arts Centre Studio , A limited number of tickets are available for £2 from the Arts Centre Box Office.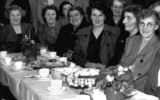 Can you identify this event in Pocklington? It may be an early meeting of the Womens Institute and from the dress it could be taken in the 1940s. Can you name anyone on it, or provide a more accurate date then please let us know.





Woldgate School celebrates the 60th Anniversay of its opening this year and a photograph has been supplied of one its first classes. Class 1B of Miss Ulyatt in 1958. Do you have any early old photographs of Woldgate School? We have a Workshop planned in October to mark the occassion please see our events which have a full programme up to May 2019.




To help with the idea of creating an Iron Age Museum and Heritage Centre, Pocklington Heritage Partnership (a collaboration of various groups) have created a district map to identify all the past Iron Age discoveries in the surrounding district. The surprising outcome is how extensive the finds are from the lowland and wolds escarpment areas together with the new large and substantial Cemetery found in the town at Burnby Lane makes Pocklington a logical place for a Museum to be situated.



The discovery of the lost Pocklington Council School Honours Board. Thanks to Paul Jennings this has now been found and rescued from a rubbish skip !




Bishop Wilton Local History Group was active between 2002 - 2012. It produced 20 bulletins of high quality research and information. They can now be purchased online and all revenues will go to Bishop Wilton Church. Visit the list of bulletins in the store.

** Update: Payment for the bulletins is now via Paypal




Arthur Barker of the Barker's Dairy family of Pocklington, recorded his recollections of growing up in Bielby and Pocklington and later being called up for active service during WW2 and to eventually receive the British Empire Medal.





Pocklington Council School girls with their teacher William Lamb and which looks from the style of clothes to be around 1910-1918 but would appreciate any feedback on specific date or any names you could provide.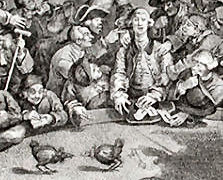 Cockfighting was practiced in Pocklington since at least the seventeenth century. William Westoby, gent of Pocklington, left a Cock Pit in his will of 1707. By the 1820's public opinion was changing about banning the barbaric sport led by political leaders including William Wilberforce. Letters of protestation appeared in the papers and one in 1828 to the Yorkshire Gazette has been added to the web page.


Right: Alfred Summerson, a blacksmith's son who became a solicitor, was a leading contributor to the commercial and charitable life of Pocklington during the early years of the 20th Century and played a major role in the town during the First World War. Jim Ainscough has written a biography on this Pocklington solicitor who became a leading councillor on the Pocklington Urban District Council which was disbanded in 1935.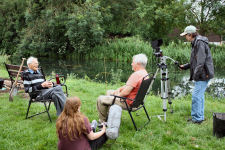 Left: Denis Moor interviewed earlier this year about his recollections of the Pocklington Canal, and diving in it when a member of the York sub-aqua club.

Obituaries: Pocklington & District Local History Group is sad to record the passing on Aug 18th of committeeman, Denis Moor aged 88, after a difficult battle with serious illness in the past couple of years. His funeral was on 1st Sept. 2017 at All Saints church. Denis was a talented electrical engineer who started out as an employee of Eric Lee's, and then set up his own business in Market Place where for decades he would repair anything and everything electrical. He was also a talented subaqua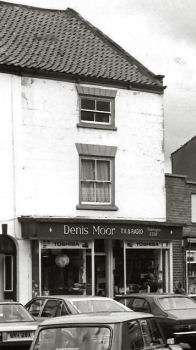 diver who dived to wrecks throughout Britain, and who recorded the underwater world of the Pocklington canal in a unique archive of hundreds of photographs that he recently deposited in the Treasure House. But Denis was perhaps best known in Pocklington for his stories about the town's people, places and events, from growing up in the 1930s, through the war years, including a favourite tale of being flown round the county by RAF Pocklington Squadron Leader Gus Walker in his personal plane, up to the present day. Denis' fund of stories was inexhaustible, and he loved telling them. His contribution to Pocklington's local history was recognised in April when he was made the History Group's first Life Member, and he told his tales to the end - he is pictured above being interviewed and filmed as part of the Pocklington Canal Heritage Project in July, when Denis added value to the archaeological dig into Robert Denison's warehouse site at Canal Head with his childhood reminiscences about playing in the warehouse ruins and learning to swim in the canal. Denis' demise follows on from the passing of another Pocklington man with a great knowledge of local history, Ken Durkin, who died in June. Though not an active member of the Local History Group, he nevertheless sought out and shared with us innumerable snippets and photographs about Pocklington history.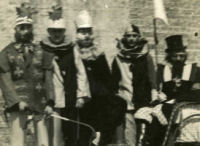 The last Pocklington 'Mummer' died in 1930. He was Christopher Scaife who used to perform the old plays at Christmas time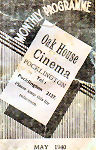 and travelled around most of Yorkshire with a tradition that went back hundreds of years and with its origin in pagan times. If anyone has a photograph of Christopher Scaife please contact me. Also, the discovery of a 1940 Oak House Cinema programme in a Chimney !




More photographs received of Woldgate School in 1959 and also in 1961 and also Barmby Moor Carnival Queen from 1937. Recently added is the inside of Pocklington National school 1961. If you can add any names please contact us. Please send any photographs or school groups you would like to see added to this reference website for the town and district.



This year's 102 Squadron Association reunion saw a former RAF Pocklington pilot jet all the way from Australia to meet up for the weekend with three of his former World War II comrades. Ron Houghton, who lives in Sydney, was back in Pocklington for a week to take in the 102 Association reunion, based at the gliding club on the ex-WWII airfield, and visit some of his old haunts of over 70 years ago.


The cold war between powers in the Eastern Bloc (the Soviet Union and its satellite states) and powers in the Western Bloc (the United States, its NATO allies and others) was a sensitive time in the 1960's. Full Sutton Airfield had Thor Missiles installed and Elvington Airfield with Vulcan Bombers.



The story of the Wolds and Buckrose Spitfire is an inspirational story of a young Norwegian pilot who gave his life in the Battle of Britain flying a Spitfire partly bought by the people of Pocklington called the 'Wolds and Buckrose'.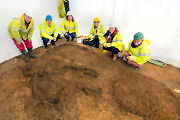 Chariot discovered! - At the Burnby lane David Wilson Homes development, archaeologists have discovered the remains of an Iron Age Chariot with two horses. The discovery has been classified as of International Importance and a press release has been issued by David Wilson homes. If you have not signed our petition to keep the Burnby Lane Iron Age finds in Pocklington, please do so.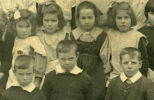 Allerthorpe School in 1920 group 2 class.
If you can add any names please contact us or have any school photographs to add to this website. Names to faces are always being added please keep checking the web pages.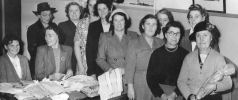 Focus on Yapham:
A 1949 cricket team and 1954 cricket Team photograph. A 1960's WI meeting in Yapham School. Mr and Mrs Frear in their garden. Mr. Frear was a WW1 Wagoner.




Focus on Barmby Moor: A 1922 Barmby Moor School Photograph, an early Barmby Moor school group and a photograph of the very first Barmby Moor Carnival in 1935. A historical walk around Barmby Moor will take place on the evening of Thursday 29th June as part of our updated programme of events for the next year.



Please sign our petition to keep the Burnby Lane Archaeology finds in a heritage facility in Pocklington. The Pocklington and District Local History Group is leading a feasibilty study into the possibilities for this project and need to gauge support for the idea from the people of the town, If you agree sign the petition!

Left: an Iron Age Spear from the Parisi people who lived in the Pocklington area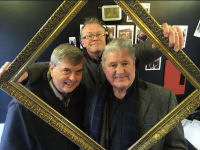 Radio Humberside visits Pocklington. Presenter Phil White from Radio Humberside set his large vehicle in Market Place outside Guest & Phillips Jewellers and Danby's newsagent on Thursday 9th February. Interviews took place with visitors and passing residents and the Town Mayor David Sykes (pictured right). Andy Sefton (pictured left) was interviewed about the Pocklington & District Local History Group and talked about the Iron Age site in Burnby Lane (go to about 19 mins in to the sound recording to hear the interview on the above 'catch up' link)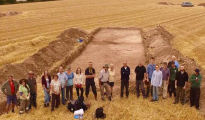 The Nunburnholme Community Archaeology Project ran from 2014-2016 and included archaeology investigations on Nunburnholme Wold overlooking the village. The project involved locals from Nunburnholme, supported by other East Riding volunteers and led by Dr Peter Halkon, Lecturer in Archaeology at the University of Hull who has strong links to Nunburnholme.

The project discovered evidence of activity at Nunburnholme from the Neolithic through to the Medieval periods, and included finds from an substantial Iron Age hilltop enclosure at Nunburnholme Wold. The Nunburnholme project can be viewed on their website .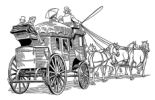 In 1789, the Pocklington Diligence Stagecoach ran from Hull through Beverley and Pocklington and on to the Black Swan Inn in Coney Street in York. A Diligence Stagecoach was usually four horses pulling a single or multi-compartment coach and often known as a "Dilly".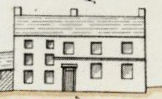 Mary Dewsberry was a prominant lady in the early 19th Century. She was a businesswoman and a philanthropist for the town. John Nottingham has written a biography as she has links to his family history. The image here is Watson's drawing of her house in Union Street called Dewsberry house, now long since gone.


Brickmaking in the Pocklington area has been researched by John Nottingham and his previous research (previously published on this website) has been significantly enhanced.

If you have anything to add on Brickmaking please contact us. We always welcome articles for publication on this website. Have a go, and you will find it quite rewarding to do.




Eric Lee closes after 83 years and we record the part played by the business in the development of the town.


Please send us your memories of the electrical business which provided employment to so many in the town.





The Manor Court Call Roll transcribed by Heidi Woodhouse for 1793 to 1803. See if your ancesters attended the call to the Manor Court of Robert Denison Esq. Lord of the Manor.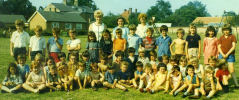 Chapmangate Nursery in the 1970's kindly provided by Beverley Croft.

Please let us know the names if you can.





A history of Beacon Lodge has been written by Nigel Glew. The Masonic Hall was built at No. 8, The Mile in 1928 by a number of founding members including Wycliffe Galand Everingham, Francis Scaife and George Arthur Reed.






An autobiography has been discovered of the early life of Herbert Johnson who was born and raised in Pocklington. It is thought to be the only surviving copy. It has details of his growing up in the town, meeting the love of his life, working at Allisons, fighting in WW2 in Italy, and post-war life. A unique, fascinating and detailed account, which is now saved for posterity.



A Time capsule is to be buried at the archeology dig site. David Wilson Homes is to install a time capsule at its Pocklington based housing development, Pavilion Square, where many Iron Age finds have been unearthed. The local house builder is installing the time capsule to celebrate the discoveries at the site of its Pavilion Square development, on Burnby Lane.



The wedding of Harold Waters to Mabel outside the methodist church in Union Street with members of the Payne family during the war..

Please let us know if you can name others in the photograph.




A tutorial on how to use this website to find out the location of the house of your ancestor in Pocklington using the example of Thomas Blanchard.

Thomas was a Fellmonger and operated from the old house now used for English's Pet shop.




The history of Pocklington electrical supply has been added to the website including information on Eric Lee's electrical business one of the oldest business names still trading in the town.

The electrical supply arrived in the town in 1933 and soon after Eric Lee started his business in the town. This was followed by Fred Kirk and other businesses to supply televisions and electrical goods.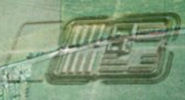 On 11th December 2015 in Hayton village hall, Dr Peter Halkon, Professor Martin Millett and Dr Helen Woodhouse launched their book about the long term project to excavate and study the Roman Fort found at Hayton. Information on their book can be found here.




The newspaper report of the Burnby Lane Iron Age Site states that the site has so far yielded 156 skeletons and 76 square barrows.



Voices from the past - Recently discovered recordings of WW1 veterans were found by the York Oral History Society. Five local veterans recorded in 1980/81 by Alf Peacock were played back at a recent meeting of the Pocklington and District Local History Group together with pictures and film.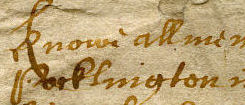 An old document of 1559 was found on an online auction site of William Plaxton of Pocklington. It is probably linked to a later document of 1585 of Thomas Plaxton and also available to view on this site.




The story of families of emigrants from Pocklington founding a community in Detroit, Michigan in the United States of America. The families included Vaux, Lamb and Lee.

Picture left is James "Boss" Vokes who emigrated from Pocklington in 1843 to Detroit, Michigan, USA. If you have any information on the Leesville settlers please contact us.




Can you identify?? ... A new page has been added for photographs we have difficulty in identifying the place, the names of the people, or the date it was taken. Please contact us if you can help.

* Latest Update - one photo has been identified !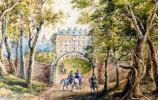 A superbly researched and referenced article has been kindly provided for publication on this website by Andrew Rose on the Rudston family of Hayton and Allerthorpe. This family were a most prominant family in the area with links going back to the 1100's.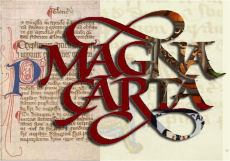 While the 800th anniversary of Magna Carta was recently celebrated on both sides of the Atlantic by a series of major events and extensive media coverage, Pocklington & District Local History Group focussed on the numerous local links to 'The Great Charter' at its June meeting. Read about Pocklington links to the Magna Carta.





Pocklington has always had a good Pigeon Racing group. They would send their pigeons on the train from Pocklington Station.

Also, Woldgate Catering staff early 1960's and Council School PE 1957/58




For the 2015 Flying Man history exhibition John Nottingham and Jeff Peck have completed an excellent research project on the history of Pocklington Airfield. It includes new aerial photographs of the construction of the airfield. They have kindly agreed for it to be made available for viewing on this website. Picture on the right is Gus Walker meeting Bomber Harris at Pocklington Airfield.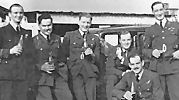 The 8th May 2015, was the 70th anniversary of VE day. Phil Gilbank wrote an article for the Pocklington Post for its commemoration and it is reproduced here.






Rachel Walker is Pocklington Canal & River Trust Development Officer. She has been employed to develop an application to the Heritage Lottery Fund for works on the canal, which will include:

· Works to improve the SSSIs
· Restoration to two of the bridges
· Interpretation of the Canal
· Providing activities, events and opportunities for volunteers to get involved

If you would like to get involved in the project please contact Rachel via her Facebook page and take part in her survey by visiting this link


A skeleton of a warrior buried with his shield has been found at the recently discovered Iron Age Cemetery in Burnby Lane. Over 38 square barrows and over 82 burials have so far been excavated by Paula Ware and her team of archeologists. David Wilson homes are currently constructing 77 new houses on the site. See the Pocklington Post story here.




Information on the Rennard Family of the Wolds together with an old Tayleure CDV photograph. John Rennard was born in Millington in 1849 and his family were dales farmers.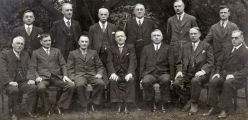 Pocklington Urban District Council taken around 1933 with Alfred Summerson, Herbert Meynell, George Scaife Joseph Butterworth, Sydney Everingham and George William Haw (Chairman).






The exciting discovery of an Iron Age cemetery in Burnby Lane was presented at a public meeting in Pocklington on the 19th March, 2015. The size and preservation of the site has surprised and amazed the archeologists and the site has been raised to international importance. View the meeting report here.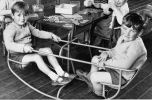 Various photographs of the National School in New Street and the Council School in Kirkland Street. Also a photograph of the National School in 1964.







Shiptonthorpe Home Guard no. 5 Platoon met twice a week, Tuesday nights and Sunday mornings in an old WW1 hut in Station Road. It was formed in 1940, and was made up of a section of the East Riding 4th Battalion.





Francis Scaife who died in 1937, was a benefactor for the town providing in his will for the creation of a swimming pool, which opened in 1965 bearing his name. The Scaife family roots go back in Pocklington to at least the seventeeth century and carried out a variety of trades and professions in the town including a large brewery business in New Pavement which closed in 1895.



OLDER Updates....CLICK HERE